Adrian J Cotterill, Editor-in-Chief
SapientNitro, part of Sapient (NASDAQ: SAPE), unveiled last week what is undoubtedly the world's first smile-activated vending machine for Unilever.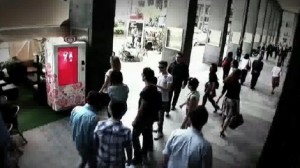 Unilever is of course the world's biggest ice cream manufacturer and has diverse brands such as Wall's, Ben & Jerry's, Good Humor, Breyers and Klondike in its portfolio.
This ice cream vending machine is an industry-leading innovative brand experience and part of Unilever's new ice cream mission to encourage people everywhere to share life's small moments of happiness.
Ian Maskell, Global Brand Development Director for Wall's at Unilever told us "We're really excited about the possibility this new technology holds for Unilever. It offers a revolutionary new way for consumers to buy ice cream and, simultaneously, a revolutionary brand experience,"
It works as follows; An 'attractor screen' playfully immerses a passerby into the world of augmented reality. Once drawn closer to the machine, the person is prompted for a big smile and the 'smile-o-meter' measures his or her grin. A photo is then taken and with permission uploaded onto Facebook.
The consumer can pick out his or her free ice cream by using the touch-screen interface on the vending machine.
Kim Douglas, Managing Director of SapientNitro UK told us "You would expect nothing less from Unilever, a company highly respected for innovation, than to introduce an industry-leading brand experience. We are thrilled to work with Unilever on this, and look forward to seeing the vending machine being rolled out into other markets around the world".
To create this groundbreaking experience, creative technologists at SapientNitro harnessed the power of the latest technology across a number of realms, including facial recognition, 3G and Facebook. Designed in a lab by specialist teams intent on creating a machine unlike any other, the unique features of the smile-activated vending machine include:
Facial recognition technology to track if a person is smiling
Intricate technology that captures and measures a person's smile; the smile-o-meter – to let a person know how happy he or she is
3G technology to enable uploading and sharing of smiles via social media with the user's permission
SapientNitro also developed the graphic language, interface design and the unique animation style for the vending machine. Samsung was the screen provider and Sanden Vendo supplied the vending machine.
The smile-activated ice cream vending machine made its first public appearance in May 2010 at the Rock in Rio festival in Lisbon, Portugal. It will roll out into high-traffic consumer locations like shopping malls across the globe over the next 18 months.
A demonstration video of the machine can be viewed here.
About SapientNitro

SapientNitroSM, part of Sapient®, is the world's first customer experience company. We create and engineer highly relevant experiences that accelerate business growth and fuel brand advocacy for our clients. By combining multi-channel marketing, multi-channel commerce, and the technology that binds them, we influence customer behavior across the spectrum of content, communication and commerce channels, resulting in deeper, more meaningful relationships between customers and brands. SapientNitro services global leaders such as Citi, The Coca-Cola Company, Singapore Airlines, Target, and Vodafone through our operations in North America, Europe, and Asia-Pacific.