Gail Chiasson, North American Editor
Kompas, the largest daily newspaper in Indonesia, has been available as an App since the beginning of July, thanks to the use of WoodWing´s Digital Magazine Tools to create and publish the digital issues for the iPad.
"At Kompas, we always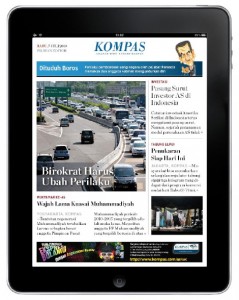 aim to offer our audience the most compelling reader experience and to provide them with the latest news wherever they are and whatever device they use," says Rikard Bagun, editor-in-chief at Kompas. "It was a logical step for us to support the iPad."
The Kompas iPad App is produced by six employees working parallel with print production. The team aims to output the App at 2 a.m. local time every day, enabling users around the world to read the latest Kompas iPad issue in a timely manner.
Founded in 1965, the daily newspaper reaches more than 2 million readers per day. Its website claims a total readership of 15 million unique visitors per month, as one of the largest news portals in Indonesia. Known for its innovation, Kompas has regularly introduced such technologies, such as QR-code in daily editorial content; augmented reality for editorial and advertising; web digital replica in Kompas ePaper; and now the iPad App.

"The iPad initially focused on the magazine segment, but now we see that daily newspapers can also capitalize on the iPad to broaden their daily audience, and to develop new revenue sources," says Remco Koster, managing director of WoodWing Asia Pacific. "Kompas wanted its daily digest on the iPad to have a magazine look and feel. With our tools, newspaper publishers can do both – create a digest in a magazine style or keep the appearance of their printed newspaper."

WoodWing´s Digital Magazine Tools currently support the iPad, but will be open for other tablet devices when they become available. WoodWing is continuing to expand the feature set of its Digital Magazine Tools and expects to have approximately one new release each month this summer.
WoodWing Software is located in Zaandam, The Netherlands, and has regional sales companies for Europe, the USA, Asia-Pacific, and Latin America. Customers are served through select partners.