Gail Chiasson, North American Editor
NCR's SelfServ 60 kiosk systems have been deployed in The Bay and Home Outfitter locations across Canada following an agreement between Hudson's Bay Company, Canada's largest diversified general merchandise retailer and provider of Canada's largest gift registry, and NCR Corporation, headquartered in Duluth, Georgia (U.S.).
Through this recently-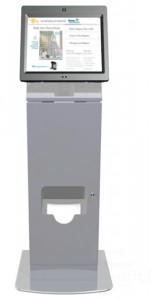 completed, national roll-out, using capacitive touch technology, customers are able to navigate easily through registry screens with a single tap of the finger. They can benefit from increased versatility, improved speed, enhanced graphics and larger, brighter monitors. Further, the new kiosks feature reduced power consumption and offer double-sided printing with NCR's 2ST, both designed to lower carbon footprint, consumables usage and waste, and other environmental impacts.
NCR worked closely with Hudson's Bay Company during the solution transition to provide training and support services to associates and gift registry consultants. NCR SelfServ 60 incorporates Intel's Active Management Technology, which enables remote problem diagnosis, updates and repairs – even when the device is turned off or the operating system is not functioning.
"This exciting initiative allows us to build upon the success of our gift registry business at the Bay and Home Outfitters, and continue to enhance our customer experience in-store with new and innovative technologies," says Stella Farrace, national sales & service manager, HOME Division & National Gift Registry, at Hudson's Bay Company. "This system also offers a number of environmental benefits, which is in keeping with our ongoing commitment to identify opportunities to make our operations and services more environmentally-friendly."
The Hudon's Bay Company is the oldest chartered trading company in the world. . Founded in 1670, The Hudson's Bay Company operates The Bay, a major department store, Zellers, a mass merchandise format, Home Outfitters, a kitchen, bed and bath specialty store, and value-priced Fields stores. It has more than 600 retail outlets.