Adrian J Cotterill, Editor-in-Chief
Stinova and Great Sun Europe worked hand in hand in the Digital Signage Zone at #ibc2010 to promote the mytag.tv Digital Tags.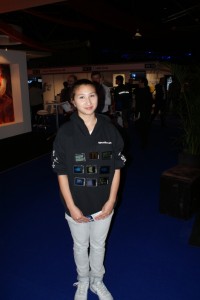 Promoted and described as personal digital signage players we have seen their like at a couple of shows now – at #CETW (nee #Kioskcom) in Las Vegas back in April they were being sold (if we remember correctly) for something like 140 dollars apiece – prices we were given this time around were 65 – 75 Euros so at prices like that expect to see them popping up in all sorts of places.
The Stinova playlist manager seemed to handle content for them quite intuitively as well and Stinova even had little counter top / desk holders for the MyTags which could take charged devices for easy display on a retail counter or hospitality desk.
Whilst the front of the lady (shown to the left here) was impressive enough (with about nine MyTags attached in a 3 x 3) It was a shame that the url www.sgmonitor.com on the back of this ladies shirt didn't work during the show though.