Russ Curry, Ministry of New Media
You have to hand it to the show's organisers, REED and to the French industry association, APCAD, for trying. They are absolutely tireless in their efforts to promote a high quality show which can introduce the industry to anyone interested in the communications world AND to inform and educate about the workings and the advantages of the media. I'm sure though that sometimes it must feel like herding cats!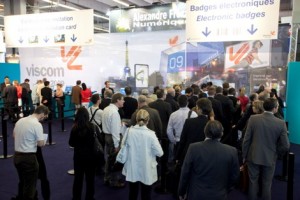 In 2008, Viscom introduced the 'Digital Media by Viscom' zone and it's back again for the 3rd time at Viscom Paris 2010.
The idea being to group all exhibitors involved in the industry together, making it easier for visitors to navigate their way through the show. The good news is that total exhibitor numbers are up to 183 from 154 in 2009. Presumably this justifies the move to the larger out of town site this year.
However, the other news is that out of the 34 exhibitors that I counted listing 'Digital Media / Dynamic Audiovisual Communication' amongst their activities, there was only one APCAD member – France Telecom subsidiary Globecast?
They've also organised a  series of highly informative conferences aimed at educating the great unwashed about the functions and values of the industry (I'll know better what to call 'the industry' after the results of the APCAD's poll are announced on Wednesday evening).
Having just three spots available, they've done a good job in focussing on the essentials and lining up some very respectable speakers – leading off is the APCAD session that defines the media. The argument runs: "When you reach 10 million people daily with a network of screens, is this a simple communication tool? When you talk in terms of OTS (Opportunities To See) and GRP (Gross Rating Points) isn't it already a media? When you can adapt content profile according to audience, place, time or day-parts, is it –  digital signage – a simple communication tool or a true media?"
Here are full details of the conferences, all taking place this coming Wednesday, September 22nd…
DYNAMIC SIGNAGE – A STAND ALONE MEDIUM ? (11.00 am – 12.30 pm)

Based on case histories made available by APCAD, (Association Digital Media France), and by the CSA research institute study, APCAD will unveil the main elements that make up Digital Media.

Chairman: the ubiquitous Raphaël PINOT – Cleverdis, Publication Editor SMARTreport

Speakers: Marc BALLU, APCAD; Catherine BOUVIER, CSA; Benoît REGENT, POSTERSCOPE

DIGITAL MEDIA : A VARIETY OF APPLICATIONS (1.30 pm – 2.30 pm) 

Digital Media in business

Originally used in the reception areas of company headquarters, screens are used in an increasing number of strategic locations to reach nearly all company personnel. Content has also evolved from simple animated signs to real audiovisual and collaborative programmes.

The objective of this conference is particularly to learn how to achieve profitability from this corporate medium, how to manage content and how to define the organisation needed to generate this content. Learn from the experiences of BNP PARIBAS.

Multisensory digital marketing

Today, Digital Media projects evolve by offering greater interaction with the client. Connexion to the screen is diversified: tactile screen, RFID, sound, olfactory diffusion…

Chairman: Raphaël PINOT – Cleverdis, Publication Editor SMARTreport

Speakers: Raphael CAMBIER, Instore Solutions; Bruno FOURDIN, Responsible Contracting authority and Chief Editor for ZAP ITP, BNP PARIBAS; Claude NAHON, General Manager, MOOD MEDIA; Gérard DOUCET, GEDEON

INDOOR OR OUTDOOR LARGE FORMAT VIDEO SCREENS: WHY IS FRANCE LAGGING BEHIND? (2.45 pm – 4.15 pm)

France is not equipped with powerful networks of large format LED screens. The result of this is that local advertising drives the economic model. This conference will reveal what is the state of mind of the space buying agencies and advertisers and will identify the obstacles and unique benefits of this medium that has a very strong potential.

Chairman: Denis GAUMONDIE, OOH TV

Speakers: Emmanuel POTIER, CLEAR CHANNEL FRANCE; Sébastien CLÉMENT, Arch (manufacturer); Thierry DEJOTEMPS, MEDIALARGE; Marc SANFILIPPO, Expert