Adrian J Cotterill, Editor-in-Chief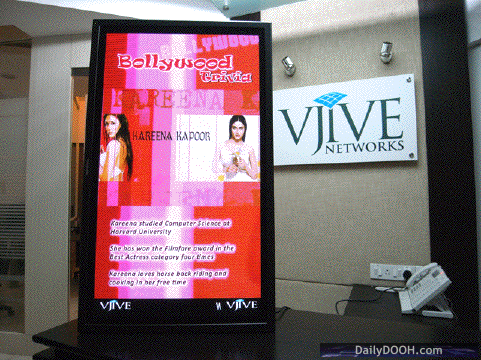 Attached is a picture of some "General Interest Content" (GIC) that Amigo India has been developing for VJIVE Networks' Network Partner – Gold's Gym (previously blogged).
The picture was taken at the VJive offices (of course) and not at the Gym.
The team there call this type of content GIC or filler content that runs during gym hours. This type of content is part of 'capsules' of general interest content, aimed to fill the audience time whilst they work out and generally frequent the gym.
The capsules can be various genres including Entertainment, Travel, Lifestyle, Wellbeing etc and is designed to be easily updateable from the creative side whilst still retaining a freshness in appeal for regular gym users.
GIC can of course be supported with appropriate advertising by brands.
"Bollywood Trivia" for example would be supported by advertising content from the major Bollywood film distributors keen to promote the latest films featuring the relevant actors/actresses.
Key to all of this – design the content to enhance the advertising as well as keep eyeballs interested and on the screen for longer periods of time!