Gail Chiasson, North American Editor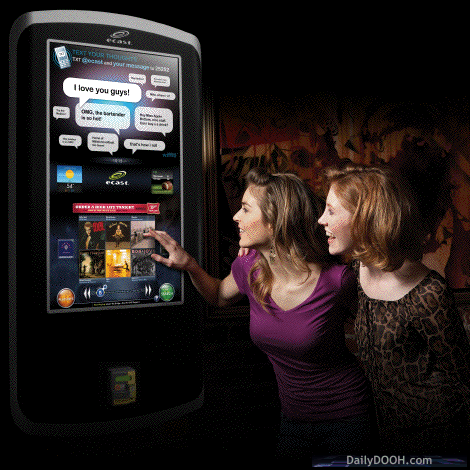 San-Francisco-based Ecast, a broadband media network with more than 10,000 locations across the U.S. with digital screens, has launched a second generation of products that changes the way people are entertained in bars and nightclubs: Ecast EQ, an interactive, out-of-home-media experience that changes the face of what the bar-going public thinks of a jukebox, and, in conjunction with LocaModa, adds social media functionality to its interactive network.
We are looking forward to hearing Stephen Randall, CEO, LocaModa who is presenting at the DOOH Business Conference 2009 in Amsterdam early next year, Ed
Ecast EQ offers marketers and record companies more ways to connect with their target audience and promote brands, artists and events.
EcastEQ all digital out-of-home music network is the new 'jukebox', with 40" screens featuring high definition visuals, great graphics, and offering the opportunity for friends to interact with the jukeboxes and one another. Cambridge, Mass.-based LocaModa's Wiffiti application allows bar patrons to send text messages directly to EQ screens, using it as a way to flirt, joke and chat with others in the venue or on-line.
With a vertical flat-panel design with a 1080p HD touchscreen for passive and interactive consumer engagement, Ecast EQ delivers on-demand content – video, real-time interactive surveys and games, advertising, social applications and a jukebox interface for music – to out-of-home venues frequented by 21-to-34-year-olds. Connected via broadband Internet to the Ecast platform, EQ uses Web-based methodologies, including DoubleClick DART, to deliver unprecedented levels of consumer engagement and reporting for advertisers and music promoters.
The new screens, in development for a year, will not replace the current 17" screens offered by Ecast, but can be added to current locations as well as move into new locales. Prototypes are already running in New York, Chicago, Minneapolis, Los Angeles, San Francisco and Seattle, with nationwide distribution scheduled for later this fall.
The screens ($5,495 each at retail) are available through Ecast's 1,100 operator partners who place them into locales and provide support, while Ecast's data center in Santa Clara, California, controls content.
Ecast also handles advertising sales.
"We expect most ad campaigns to be national, but if an establishment doesn't wants to run ads for alcohol, for example, we have the ability to exclude them," says Ken Feehan, director of product, who talked to us from Las Vegas where Ecast brass were showing off the new screens.
"Over the past few years, we've taken the touchscreen digital jukebox beyond a music-only device to one that incorporates advertising with all the targeting of the Internet," says John Taylor, president and CEO of Ecast. "With EQ, we've taken another radical leap forward, providing a new format for interactive entertainment that meets the increasing demands of our core audiences: advertisers, location operators and consumers. EQ positions Ecast for growth within our existing hospitality vertical and beyond."
While nightclub/bar customers can engage directly with EQ's interactive advertising, games, surveys, and social interactivity, the only things they must pay for is, as with any other 'jukebox', their on-demand music selections from Ecast's catalog of over 300,000 songs. The top display area of the screens allows distance viewing of passive content – such as video promotions – plus social interaction with EQ via mobile devices. For example, the EQ photo sharing application allows location owners to enhance their standing as a community hot spot by instantly posting captioned photos taken by patrons and staff.
"We're currently only looking at the U.S. market, but may eventually go international," says Feehan. "To do that, we need to obtain other music licences."
Ecast, a venture-backed private company, was founded in 1999 and deployed its first screens in 2001. Its investment partners include Crosslink Capital, DCM, El Dorado Ventures, Focus Ventures and Mobius Venture Capital
Cambridge, Mass.-based LocaModa, which offers an interactive media platform that connects digital out-of-home, mobile and web networks, was founded by Stephen Randall, a former executive vice-president and founder of Symbian, and is internationally backed by Dace Ventures in USA, Mahindra Group in India and Sumitomo Corporation of Japan, via its US-based strategic investing arm, PresidioSTX.