Gail Chiasson, North American Editor
San Francisco-based Reach Media Group, leading digital place-based media and entertainment company, and Harrah's Entertainment, the casino and hotel operator, are launching a new place-based Hospitality Entertainment Network.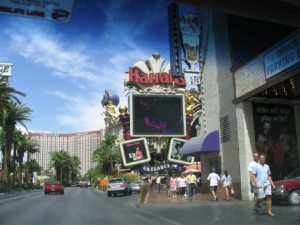 The new network will be one of the first of its kind within the space, breaking new ground in an aggressively expanding industry. RMG's sixth place-based video network, it will consist of 50,000 screens in high-traffic, long dwell-time locations in Harrah's Entertainment-owned hotels and casinos including Caesars Palace, Harrah's, Horseshoe and Planet Hollywood resorts.
RMG will have the ad sales rights to represent the full network of screens outside the hotels, on gaming floors and in hotel rooms. RMG plans to manage, build and grow the network to 75,000 screens by the end of 2011.
"Advertisers now acknowledge the value of place-based video and the ability to target active consumers as a great complement to the marketing mix," says Garry McGuire, CEO, RMG Networks. "By launching a new network in partnership with Harrah's Entertainment, RMG delivers further expanded reach and an active audience base to marketers by providing them with the opportunity to tap into this highly-coveted segment,"
Harnessing interactive channels, the new network will also enable advertisers to further engage their target audiences by enhancing the consumer experience via geo-targetable mobile display ads, mobile coupons, online loyalty programs and touch screen systems.
"We've been very impressed with RMG's expertise and record of success with a variety of consumer brands, and look forward to a mutually rewarding relationship," says David Norton, senior vice-president and chief marketing officer, Harrah's Entertainment.
Advertising on RMG's new network will begin running in early Dec., 2010.
This announcement comes on the heels of a 14- month period of aggressive growth with RMG expanding to 190,000 screens reaching over 60 million active monthly viewers. RMG's five other place-based networks connect with consumers on their path to purchase in fitness centers; cafes and eating locales; colleges; doctors' offices and pharmacy locations; airplanes and taxis.
Juno Management Partners, a Radnor, Pennsylvania-based business development and transactional firm, served as an advisor to Harrah's in the completion this relationship.
Harrah's Entertainment, Inc. is the world's largest provider of branded casino entertainment.