Adrian J Cotterill, Editor-in-Chief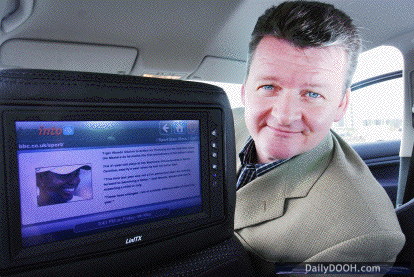 Fifty private hire cars serving Edinburgh Airport are currently being fitted with the Tapinto system, which provides visitors with access to a wide range of information on the city.
Tapinto is the 'phoenix' that has risen from the ashes of the failed Cabtivate venture up in Edinburgh, Scotland.
Tapinto claim this is all 'ground-breaking' and a world-first, but it looks very similar to me of the EnQii powered Taxi Bleus solution in Paris, previously reported http://www.dailydooh.com/index.php/archives/161
Private hire cars are fitted with a special headrest containing an 8-inch touch screen which can provide news, weather and sports updates, advertising opportunities and public information for residents and visitors to the city.
Tapinto seems basicallly to be a directory system which passengers can navigate through to access information on pubs, clubs, events etc rather than watching content interspersed with adverts – Tapinto say it is more like an interactive Yellow Pages
The system has the capability to allow passengers to download information onto their mobile phone such as tourist maps or special offers for pubs, clubs and restaurants.
One club in Edinburgh is trying to use the system to offer 2 for 1 drinks deals and Queue Jump passes via the Bluetooth (Kaleidovision did this a while back with O2 in their pub, club and bar networks).
The drivers receive a fixed monthly fee for having the system in their vehicles.