Adrian J Cotterill, Editor-in-Chief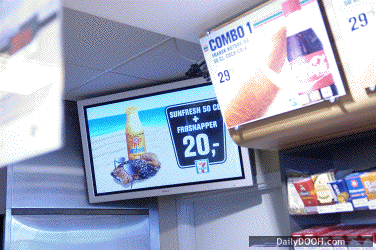 7-Eleven in Denmark was one of the first European chain of stores to prove a substantial increase in sales as a result of implementing an in-store TV solution. There are (61) sixty one 7-Eleven convenience stores in the network – all put together by Acrossmedia Århus.
On my last trip to Copenhagen I visited a few 7-Eleven stores and they are, well, 7-Eleven stores (the same the world over!).
ReitanServicehandel, the owners of 7-Eleven in Denmark were so pleased with the results of the screens that when they acquired the former HydroTexaco stores (YX) they immediately returned to the fold and rolled out screens in 146 YX stores (95% plus of the stores – there are only a few that do not have screens).
Acrossmedia Århus are having a big impact in the region and elsewhere – they also produce content for the retailer BoConcept (180 stores worldwide with half of those stores having screens)
Photo taken by Claus Hansen