Gail Chiasson, North American Editor
Videotron's new flagship store on Montreal's Ste-Catherine St. West officially launched yesterday with a unique, interactive space of more than 4,500 sq. ft. and a bold three-floors design that will enliven the customer experience for shoppers.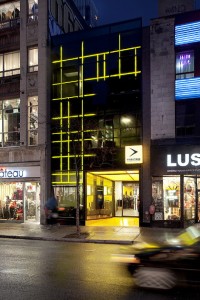 Located a block west of the Peel-Ste-Catherine intersection and about two blocks east of the Apple store, Videotron's bright cube-shaped yellow exterior is fitted with a giant LED screen with patterns that are geared to the urban rhythm of Ste Catherine St., one of Canada's most important commercial arteries. The patterns on the facade screen change shape, speed up and slow down at different times of day.
Internally, the store is equipped with the cutting-edge communications technology that gives a vision of the technological future of this Canadian company.
"The opening of the new Videotron shop reflects our determination to offer the best possible experience for our customers, anticipating their needs for technology and entertainment, while differentiating ourselves in the market," says Robert Dépatie, president and CEO, Videotron. "As a leader, to establish a prestigious address on the most important commercial artery in Canada was imperative."
"Videotron is once again proving that there is a tremendous creative and entrepreneurial leadership in Quebec," says Pierre Karl Peladeau, president and CEO of Quebecor, which owns Videotron. "The opening of the Videotron flagship store clearly shows that people here realize large-scale innovative projects. The entire team of Quebecor Media is very proud of this achievement, developed in partnership with various companies here."
Both inside and outside the store, materials such as yellow glass, black lacquer, chrome, glass boxes and brick give the space a contemporary look and reminder of the the visual signature and corporate colours of Videotron. And at the entrance, customers and visitors can shoot a video or take a picture with a giant Smart Phone before sending it to the recipient of their choice.
The main floor allows the customer to find all Videotron services under one roof. A mobile bar with six 32" touch screens and interactive software helps customers determine their user profile (student, professional, family, the sociable, techno and globetrotter) with one touch and to find the phone and entertainment package that suits them perfectly. They can then save their search and email it, as well. 3M is the company behind these screens.
In addition, the store includes a multi-product zone where people can familiarize themselves with the products, services and packages Videotron offers, including connected home and mobile home phone, digital TV, illico and the Internet.
It's impossible not to notice the imposing staircase leading on the second floor. Twenty-five of the 26 stairs each have six screens for a total of over 150 screens equipped with LED-type high-definition. This staircase is unique in North America and will be one of the major attractions of the store. Only Rome and Hong Kong boast similar ones. At the moment, the screens show yellow and black patterns but the design content will change with holidays, the Just for Laughs Festival (sponsored by Videotron) and other patterns. Toshiba is the supplier here. Moment Factory is responsible for programming.
At the second level, two perfectly insulated glass cabins are each equipped with an 85" screen allowing consumers to experience HD on illico, a special television package of programs offered by Videotron.
Everywhere on the floor, a team of specially trained advisors is present to answer questions from consumers. When making a transaction in one or another section, consumers move to a cash counter or to one of three individual alcoves. The advisers also have tablet PCs that enable them to help customers make their purchases.
Also upstairs, a business solutions zone has been specifically designed for enterprise customers who want to know the products and services from Videotron. A lounge for team meetings is planned, and, in the next phase, with Cisco, teleconferencing will allow people to discuss face-to-face with a call centre sales representative regarding their needs.
The third floor is used for training. And, of course, the whole shop is equipped with wireless Internet.
Besides those previously mentioned, various other firms have been key players and partners in the project. ITES and Nurun have been highly involved in the screens content development. Solotech installed and researched the technical aspects. Others included: Sid Lee, Sid Lee Architecture, Régis Côté et associés architectes, Albert Jean Construction, and TVA.
"I salute the great team who contributed to this project and who has demonstrated great creativity and exceptional energy in recent months to create a customer experience at the top of our mission and our constant striving for excellence," says Dépatie.
Videotron's flagship store is part of its business strategy to expand its services in major centers throughout its service territory. To date, Videotron has 72 Jumbo Video stores, 11 stores within Archambault stores, 19 kiosks and 19 stores in malls in Quebec.