Gail Chiasson, North American Editor
Pattison Outdoor Advertising, Oakville, Ontario, installed its 60th large format digital display in Canada this week, putting it on the south side of the Toronto's Gardiner Expressway between Kipling and Islington Avenues.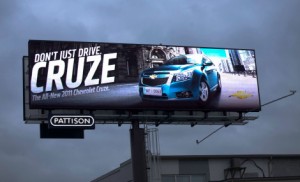 It is Pattison's second display along this busy commuter route. Pattison's digital display network stretches across Canada covering 15 cities including the major markets of Vancouver, Toronto, Montreal plus Halifax, Winnipeg, Regina, Saskatoon, Calgary and Edmonton.
"We will continue to grow our digital display network reinforcing our reputation as the industry leader in traditional Out-of-Home advertising and now in large format digital displays," says Randy Otto, president, Pattison Outdoor.
Pattison Outdoor's large format digital displays use an electronic Light Emitting Diode RGB display with a pixel pitch of 16mm. Digital Spectacular screen sizes are 14' x 48' and are designed specifically for large format outdoor installations where creative is viewed at close range.
Pattison works closely with YESCO of Salt Lake City, Utah, designers and builders of digital LED boards, custom signs, gaming displays and outdoor billboards, for Pattison's high resolution Digital Spectaculars.
Serving over 90 markets coast to coast, Pattison Outdoor Advertising is Canada's largest Out-of-Home advertising company.