Adrian J Cotterill, Editor-in-Chief
In case you hadn't noticed the UK is in the middle of a 'cold spell' at the moment – freezing enough to close Gatwick and Edinburgh airports for a few days and bring our road and rail transport links to a halt, so it's funny (but somehow nice) to see ASDA deploy these mobile Digi-Vans in Scotland (of all places) to target people on the move even when other outdoor inventory is covered with snow!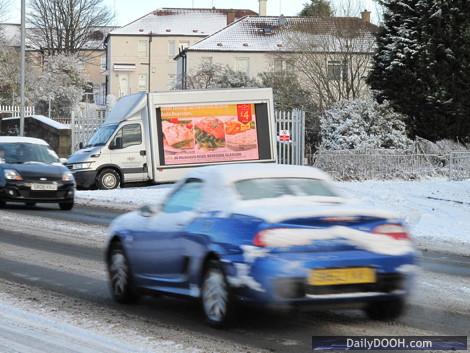 Ian Taylor, Managing Director. Media Displays, who sent us this photo told us "we are delighted that ASDA continues to use our digivans, this is testimony that not only can they be deployed virtually anywhere in the country, they operate in every weather condition, from bright sunlight to snow. ASDA decided to use digivans rather than standard ad vans, so that the copy/creative treatment can be varied to position specific products, including food, their new winter range of clothing from George and Christmas gifts".
Ian added sheepishly "our client certainly benefited from improved dwell times, or a least the traffic moving slowly."