Adrian J Cotterill, Editor-in-Chief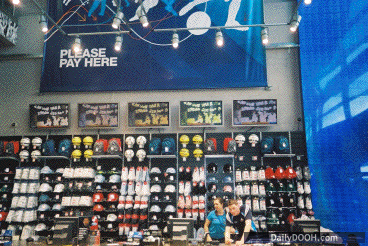 There are some interesting networks happening and 'coming soon' over in Ireland at the moment – there are at least two big banking rollouts and this Lifestyle Sports network.
The Lifestyle Sports network started out as two trial stores and has recently been installed into 3 others. A further 13 stores are planned for installation later this year and early next.
The new stores are Blanchardstown Retail Park, Citywest Shopping Park in Dublin and at Carlow Retail Park.
Lifestyle Sports is an Irish owned company and Ireland's largest sports retailer. It operates over 70 sports outlets spread across the Republic of Ireland and Northern Ireland, with further expansion plans for the future.
The Screens are at till points (if you look hard enough in the picture above you will see them) and in other key dwell areas within the stores. This picture may not do the till point screens justice (they capturing a moment in time of course – but I would have thought though that they need to do something with the screens' background colour scheme to make the displays stand out more).
Fiona Boyle, Marketing Manager at Lifestyle Sports said, "The in-store TV channel is a proven way of creating a desired upbeat and high energy ambience which reflects our brand values, and is a natural fit in our new stores."

The IQ Group which installed and managed this network was historically an Acquire user so interesting to see that this network is Scala based.