Gail Chiasson, North American Editor
Clear Channel Outdoor Holdings Inc.'s new digital transit shelter network is being well-received following its launch in both San Francisco and Washington, D.C.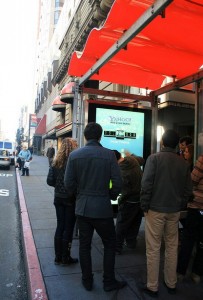 In San Francisco, the first-of-their-kind interactive digital transit shelters feature robust 72" LCD touch screens – believed to be the largest outdoor interactive touch screens in use today. Twenty new interactive digital shelters that allow consumers to interact with the content have been installed on major public transportation routes in San Francisco, with plans for further expansion in both the Bay Area and other markets in 2011.
Separately, a network of 10 digital transit shelters have been launched in high trafficked locations surrounding downtown Washington, D.C. The digital transit network displays five 12-second spots every minute over a 24-hour rotation, guaranteeing exposure 74,000 times a day. The network reach is expected to exceed 744,204 Adults 18+ weekly.
"These new transit shelter displays offer the highest level of creative opportunities for advertisers to truly engage and interact with local consumers in endless campaign possibilities," says Ron Cooper, CEO, Clear Channel Outdoor Americas. "Beyond advertisers, these digital transit shelters provide public agencies with new community service tools to deliver public service messaging in real time."
Yahoo! is the first advertiser to create a campaign exclusively for the San Francisco screens. Coined the Yahoo! Bus Stop Derby, and running to Jan. 28/11, the campaign uses interactive games to showcase Yahoo!'s mobile app offerings to San Francisco residents and commuters, many of whom spend their down time at transit shelters using smartphones to get information and stay connected on the go.
In the nine weeks since the campaign launched, over 150,000 game plays have been initiated. Obscura Digital and Clear Channel Outdoor created a reporting system to collect real time data. With Yahoo!, the reporting system measured game play, time, location, usage trends and click streams. Interaction data has the ability to prompt dynamic adjustments to the content, creating a more effective campaign.
The San Francisco bus shelter network delivers free Wi-Fi access to the surrounding area, creating opportunities to deliver a new level of creativity in integrating the Outdoor advertising medium with mobile and social media. And the state-of-the-art touch screens have been developed to withstand harsh outdoor elements including rain, direct sun and temperature variations.
The campaign was launched in partnership with Yahoo!, Goodby, Silverstein & Partners, the City of San Francisco, ACNE Production and Obscura Digital. Kinetic orchestrated the media buy.