Gail Chiasson, North American Editor
Albuquerque, New Mexico-based REELZCHANNEL – TV About Movies has joined Zoom Media & Marketing, one of the largest nightlife media and marketing companies in the U.S., to provide current news about movies and celebrities to Zoom's Social Network of bars, restaurants and nightclubs nationwide.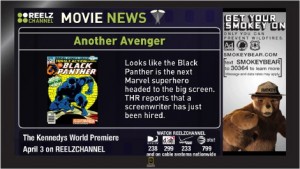 The new relationship brings original and exclusive REELZCHANNEL content to more than 550 bars and nightlife venues in the Zoom Media & Marketing Social digital place-based media network.
"We see our new relationship with Zoom as a great way to expose people to what REELZCHANNEL is all about – TV About Movies," says John deGarmo, senior vice-president of sales and distribution, REELZCHANNEL. "Zoom's Social Network allows us to provide great entertainment and information for people at these establishments while providing awareness for REELZCHANNEL."
The new partnership with REELZCHANNEL allows Zoom to provide expert-quality, continually updated movie content that adds value to Zoom's Social Network, says Dan Levi, Zoom's senior vice-president of digital media and strategic partnerships.
"Nielsen measurement shows that Zoom's Social Network has an extremely high composition of 18-34 year-old viewers, exactly the consumers who are passionate about movies and crave the latest news and information," says Levi. "Advertisers' creative runs adjacent to the REELZCHANNEL content, which grabs consumer's attention and provides a very relevant editorial environment to reach young adults while they are out with their friends."
REELZCHANNEL and Zoom are partnering on the production of this content, which is displayed on large LCD TV screens throughout the Zoom establishments. All content is dynamically updated by pulling the latest news and information directly from the leading-edge, authoritative www.reelz.com website, ensuring that bar-goers are continually informed about the latest box office results, movies to watch in theaters and at home, celebrity information and entertainment news.
REELZCHANNEL – TV About Movies is the only cable and satellite network devoted to delivering entertaining and informative programming that is all about movies, including the celebrities, fashion, music and stories behind the stories on various channels and cable systems nationwide. Owned by Hubbard Media Group, REELZCHANNEL has an entertainment bureau in Los Angeles.
Zoom Media & Marketing operates digital and fixed media networks that reach active consumers in over 10,000 venues including fitness centers, bars & restaurants, indoor soccer facilities, bowling centers, and family entertainment centers. Zoom's digital place-based network audiences are measured by The Nielsen Company, and with over 25,000 digital screens and over 55,000 billboard locations worldwide, Zoom reaches over 100 million monthly viewers. Zoom also has an in-house event marketing and promotion department that constructs custom media placements and experiential marketing programs. The company was recently ranked #2 on Mediaweek's 2010 'Out-of-Home Hot List'.