NEC's annual showcase, held at Battersea Power station, attracted 555 attendees and had the support of 32 partners showing what could be done with the company's displays.
The exhibition was divided in different zones: DOOH; Control Rooms; Education; 3D /Entertainment and Professional Office.
The Screen also held two well attended seminars. In the morning talking about education and how technology can help to get better results, in particular the inclusion of 3D and learning spaces integrated with AV technology. The afternoon was dominated by digital signage and way finding applications with a very interesting insight on the £1billion investment that Gatwick airport is carrying out to improve its signage.
A mix of Corporate end users came through out the day including HSBC; O2; M&S; Odeon; Jaguar and BAA. From the digital media sector there was Clearchannel; JC Decaux and subTV. Fifteen education establishments came along too, together with  SCHOMS. A bunch of consultants were also trotting around and key AV integrators and distributors such as Impact; Electrosonic; PSCO; Medium; Midwich and Reflex.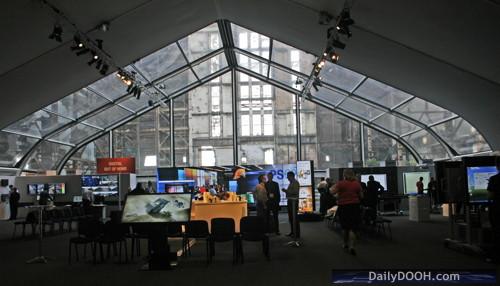 NEC Display Solutions Vice President Simon Jackson comments, "The NEC Showcase once again highlighted that there is a need for an integrated display solutions show where the industry market leaders can work together in showing fully integrated solutions to channel and end customers alike (i.e. not all separated like ScreenMediaExpo or ISE. On some solutions we had 5 different partners collaborating)."
Although we had the hottest day in April (so far as today is also 'scorching') and the massive tent where the event was held got quite hot, all the companies exhibiting that I talked to, were very pleased.
Both Beyond Digital and Saturn said they had a chance to meet and talk to some important clients and a couple of exciting leads were generated.
On the augmented reality corner, White Space was showing screen interaction beyond QR codes with mobile smart phones and printed material which was very interesting.