Adrian J Cotterill, Editor-in-Chief
Good news in that DSJ2011, i.e. Digital Signage Japan which takes place in Tokyo 8-10 June 2011 is still scheduled to go ahead despite the problems that beset the country.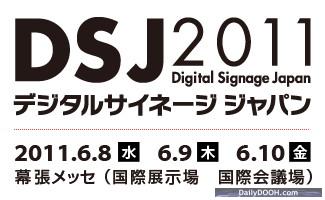 We called the organizer to check how the show is looking, and he said it will be their biggest show yet AND better yet there are no cancellations from any of the big companies who will be exhibiting.
That said, there are of course plenty of challenges in Tokyo at the moment, our friends there say that "the frequency and strength of quakes is unnerving" – although they were quick to point out that apparently the actually risk of major quake damage in Tokyo is about what it was before March 11.
We are also told that "the radiation problem is also psychologically very unnerving. Although, again the actual risk to Tokyo even in the very worst case scenarios is apparently almost nil". Looming power outages are adding to the uncertainty we are told.
Anyway, the bottom line is that Tokyo is safe, but the mood is dismal and this is not surprisingly affecting business in general and DOOH specifically.
If anyone fancies supporting the people and their economy there can be no better way than planning a trip to DSJ2011.