The Glorietta and Greenbelt cinemas in The Philippines' Ayala Shopping Malls, welcomes its visitors with 22 LCD screens powered by Cayin's digital signage players.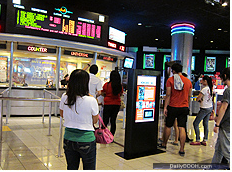 This project was conducted and implemented by Mediacast Digital Group, Cayin's certified reseller in the Philippines. The new digital screen network has livened up the environment and simultaneously simplified daily operation.
Cayin digital signage players offer greater flexibility than PC based Power Point sigange and allows administrators to easily create templates with multiple zones, such as multimedia, image slideshow, clock, ticker and Flash in one layout.
Each screen displays eye-catching movie information including: movie posters, movie trailers, synopses, approved movie rating, screening time, and other cinema promotions. The dynamic presentation accentuates attractiveness of each movie, arouses viewers' interests, and helps them make a decision on the movie selection.
"Powerful remote managerial functions are also essential to the success of this project," says Ravel Chi, Vice President of Cayin Technology. "Screens can always display up-to-date information of movies which are currently showing in these two theaters automatically based on the playlists and schedules.
"To enhance customer experience, Ayala Malls deploy 22 displays in the cinema lobby and ticketing area. This modern and fashionable design elevates the corporate image as a cutting-edge technology adopter. In addition to the lobby and ticketing area of the cinema, screens were also installed at the concierge and entrance areas throughout the Ayala malls."
"All screens needed to match the overall design of the theater to project a unified image," comments  Eric Tang, General Manager of Mediacast. "With this in mind, Glorietta and Greenbelt cinemas used different ways which best suited the environment to install screens. This included embedding screens on the wall, designing an all-in-one screen stand and hanging screens against glass windows."