Russ Curry, Ministry of New Media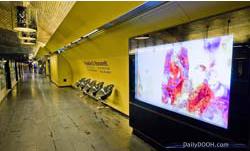 The renovation of the Franklin D. Roosevelt Metro Station in Paris, well-known to tourists as the gateway to the Champs-Élysées, has finally been completed after what seems like a century. Part of an ongoing programme to refurbish the network, it is the only station so far to integrate digital screens as part of the process.
Two types of screens with innovative content have been fitted on the platforms:
Three touch-screens provide information for passengers: one shows the entire public transport network for Paris and the surrounding Isle-de-France area; one shows a map of the surroundings; and a third features a travel-planning tool.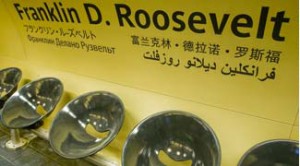 Five large format screens display a combination of advertising and cultural programming. The cultural content comprises three short films directed by artist Marko Echeverria which form part of his work "Paysages passagers" (Passing Countryside) plus four films of two minutes produced by the CNRS (French National Research Institute) which are part of the 'Year of Chemistry' programme. These four films are all about Gold:
"Colour" – Gold is yellow but changes to red and blue in the form of nano-particles;
"Electronic" – Scientists are testing gold deposits on silicon to improve computer performance
"Catalyst" – Gold can be used to oxidise Carbon Monoxide into Carbon Dioxide
"Muiscas Statuettes" – Ancient African art based on gold
The overall theme for the design of the station is champagne, as is befitting for one of the most glamorous streets in the world…