Gail Chiasson, North American Editor
We wish people would inform us at the beginning of or even before campaigns going up rather than after, but, nevertheless, this looks like it was a pretty neat event.
TMMSB and Turner Broadcasting unveiled a custom projection mapping for Turner Classic Movies' Summer Under the Stars in the Los Angeles entertainment and shopping hotspot The Grove from July 29 to August 15. (TMMSB is an operating joint venture between The Media Merchants and Streetblimps for all activations TMM executes in the US.) The event was Turner Classic Movies' annual toast to 31 classic legends.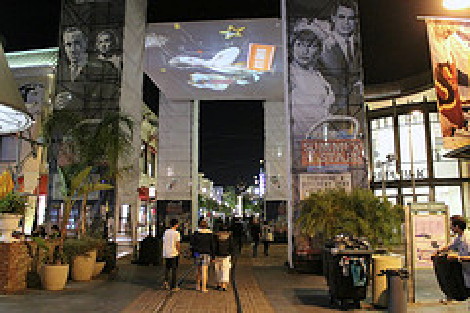 The execution took place on a custom built structure elevated 35' in the air by blending 4 high powered cinematic projectors to create a vivid 40' x 40' screen.
"The campaign provided a first-ever, brand-specific promotional product in the highest traffic lifestyle center on the West Coast," says Brad Foster, CMO of TMMSB. "For TCM's Summer Under the Stars, what better way to connect with people than by projecting trailers of their favorite classic films under the stars."
Creative was by Turner Broadcasting with projection mapping and execution by TMMSB and media handled by Media Vest.