Adrian J Cotterill, Editor-in-Chief
Geckoboard and IAdea have announced the availability of the Geckoboard service on IAdea's digital signage web appliances.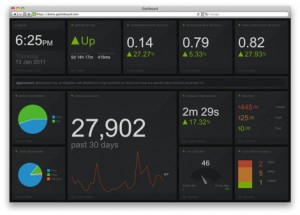 Geckoboard is a real-time dashboard that allows businesses to see all of their KPIs in one place. Geckoboard makes it easy for businesses of any size to integrate with critical data sources and display the key metrics in an easy to interpret way on large screens or mobile devices.
"With more businesses seeing the benefits of widely communicating real-time metrics, anything that makes that process easier is a welcome development," stated Paul Joyce, CEO of Geckoboard.
He added "We're delighted to be partnering with IAdea, their Web Appliances platform and Geckoboard are a perfect fit for businesses serious about creating a reliable real-time status board."
For a limited time, Geckoboard is offering IAdea customers 90 days of free trial period (valued up to USD597) on its SaaS-based corporate business intelligence service.
About Geckoboard

Headquarters in London, UK, Geckoboard is the market leading real-time business dashboard service. The Geckoboard Software-as-a-Service (SaaS) application powers thousands of dashboard around the globe. Geckoboard makes communicating KPIs simple for any organisation with out-of-the-box integrations to major software packages and a custom API to for customers to easily integrate their own sources of data. Geckoboard was founded in 2010.