Gail Chiasson, North American Editor
Montreal-based Newad has reached an exclusive indoor advertising agreement with the 53 restaurants that make up La Cage aux Sports, a Quebec pioneer and leader in the sports resto-bars industry.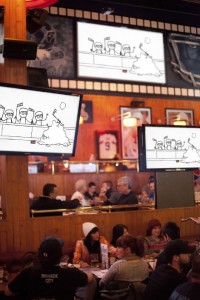 Newad will handle all sales of advertising space for the Cage TV and AffiCage networks with ad agencies and Canada's major advertisers, while also managing the installation, development and maintenance of the chain's advertising network. The restaurant chain has two advertising formats: digital screens in the dining rooms, and classic boards in the washrooms.
"This long-term partnership with such a prestigious chain is part of the strategic development plan of Newad Indoor's advertising network, and reinforces its key positioning to reach Canada's Young & Affluent," says Jean-Philippe Leduc, Newad's executive vice-president, client relations and business development. "It comes on the heels of recent partnerships announced this fall with Canlan Ice Sports and its 16 sports complexes, the acquisition of Media One and the strategic partnership with the BarNet network. It also builds on our offer in the sports resto-bars category, where we already have a large presence in Canada.
"La Cage aux Sports chose Newad because of its track record for reliability, its constant growth and its capacity to manage innovative networks that guarantee tangible and competitive revenues. The quality of our sales team and the involvement of senior management in the project were among the key factors that cemented La Cage aux Sports' confidence."
Joanne Leboeuf, Newad's general manager of indoor advertising – Eastern Canada says, "Advertisers will be able to benefit from a specialized network that is present throughout Quebec. They'll have the opportunity to connect their brands with major sporting events and position themselves at the peak of enthused fans' passions, in particular at the Bell Centre, where La Cage aux Sports has a restaurant."
Leboeuf's team has already activated a few trial campaigns, notably for Consignaction (S2B Agency) and TV5 (Espace M).
"We're very happy to be partnering with Newad, a national company that has successfully proven that it can lead a solid sales force anywhere in the country, making use of our Cage TV and AffiCage networks' full potential," says Jean Bédard, president and CEO, Sportscene Group. Which has been managing La Cage aux Sports chain since 1984. "This agreement applies to both our current establishments as well as those that will see the light of day over the coming years."
Philippe Marchessault, executive vice-president, operations, development and innovation for Newad said "This new partnership also strengthens the totality of Newad's Indoor network, which now operates over 21,500 static and digital boards, spread out in over 3,000 establishments across Canada."