Adrian J Cotterill, Editor-in-Chief
Just over four years ago we wrote a post 'An Exclusive LinkedIn group for Owners, Senior Execs and Board members' about our DailyDOOH group over on a then pre-IPO LinkedIn that had just earned respect from Wired Magazine being named in Wired's Top 10 Startups Worth Watching in 2008.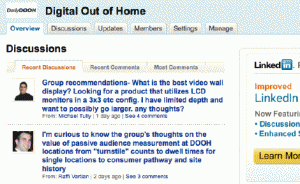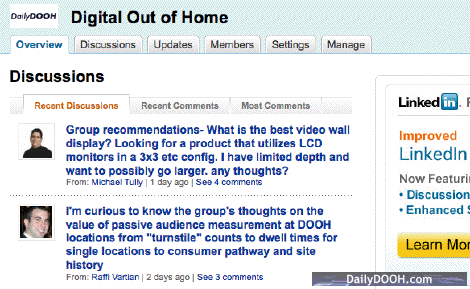 That group only consisted of a 100 folks back then though it has now grown to a very respectable 2,647 members!
We moderate the group quite tightly, we don't let recruiters or head hunters in, limit the discussions to those of a non-sales nature but other than that try and let discussions and network flow as freely as possible.
We maybe email the group members twice a year so you won't get continuous sales or marketing messages from us either (unless there is something that we think is really important).
If you play in digital signage or digital out of home and you want to join please head over to the group (click here).