Gail Chiasson, North American Editor
The 2011 Year End report from Millennial Media (Mobile Advertising | Mobile Monetization) shows some interesting facts and figures compared to 2010, including, among others, a huge growth in the use of tablets…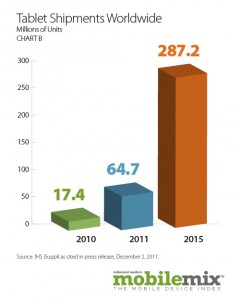 It's no surprise, of course, although the actual numbers are somewhat staggering. But other numbers might be equally surprising.
In 2011, nine verticals experienced triple digit growth year-over-year. Health: Fitness and Wellness has not been on the Top 10 Global Advertising Vertical ranking to date, yet experienced growth of 229% year-over-year. Health: Fitness & Wellness advertisers
leveraged mobile to provide seasonally relevant messages to customers, heavily promoting fitness products during the beginning of the year and summer months, while promoting wellness products and services during the cold and allergy seasons.
Finance was the number one vertical on the Top 10 Global Advertising Vertical ranking. Finance campaign spending grew 314% year-over-year In 2011, Banking advertisers used mobile to create awareness campaigns and drive customers into their branch locations while insurance and credit card brands heavily utilized mobile for generating leads.
Entertainment experienced a 133% increase year-over-year and ranked in the number three spot on the Top 10 Global Advertising Vertical ranking. In 2011, advertisers in the Entertainment vertical leveraged mobile to create awareness of new motion picture and DVD releases. They also drove downloads of branded applications, which allowed customers to watch premium television content on-the-go.
Throughout the year, in North America, brands increased their investment in mobile video advertising to drive brand awareness for their products and services.
In Europe, the Middle East and Africa, entertainment advertisers led other verticals in incorporating mobile video into their campaigns, enabling their movie trailers and TV spots to engage audiences at scale.
Also in the EMEA, brands are demanding social
media integration within ad units, to leverage the omnipresent nature of the channel and encourage secondary, viral content distribution.
In Southeast Asia, brands recognized the continued need to create cross-platform mobile
campaigns in response to the explosion of iOS and Android in the region. While Android is growing rapidly in Indonesia, BlackBerry continues to dominate and is the leading mobile platform that brands target in the Indonesian market.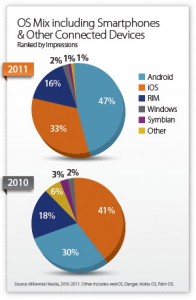 In 2011, three main advertiser trends emerged: the growth of local market targeting; the adoption of mobile video; and the continued use of mobile for mass market reach.
The Top Campaign Goal in 2011 was Sustained-In-Market Presence, representing 31% of advertisers' campaign goal mix. Campaigns with the goal of Sustained-In-Market Presence drove consumers to download applications and to play branded games to promote their products and services, while increasing their brand awareness and loyalty.
Lead Generation/Registrations represented 25% of the advertisers' campaign goal mix. Education was one of the top verticals which ran campaigns with a goal of Lead Gen/Registrations. Education brands focused on generating lead lists for their various regional degree programs.
Application Download represented 25% of the
Campaign Destination Mix and 32% of the Post-Click Campaign Action Mix in 201. With the
rapid tablet adoption that occurred in 2011, customers increasingly had two or more mobile devices and advertisers responded to this trend by creating brandedapplications with the full functionality of their websites in a simple user interface.
The Retail and Finance verticals led other verticals in creating high utility applications
that allow customers to easily transact on-the-go.
Watch Video was included in 24% of the campaigns in 2011 as a Post-Click Campaign Action. As might be expected, entertainment and telecom advertisers heavily used Watch Video as a Post-Click Campaign Action in their mobile campaigns to promote the release of new motion pictures and new mobile devices.
In 2011, Store Locator accounted for 23% of the Post-Click Campaign Action Mix . Advertisers in the Retail vertical leveraged mobile to promote seasonal sales, while Auto advertisers promoted new model year releases; both verticals drove customers to brick and mortar locations (retail outlets and auto dealerships) to complete their purchases.