Adrian J Cotterill, Editor-in-Chief
After successfully powering the LG Arena for three years, POVng- Dynamax's enterprise on-premise digital signage software has been chosen again by Birmingham's National Exhibition Centre (NEC) to disseminate real-time information and adverts on its bus shelters displays located across the NEC estate.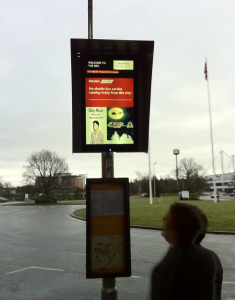 Connected via a wireless network, the screens are used to show shuttle bus timetables, relevant visitor information to their visit and carry advertising. Location, date and time are also displayed as part of enhancing visitor way-finding across the 610 acre site. The bus shelter displays are at key locations throughout the estate, giving way to repeated and longer exposures to the displayed messages and a lower perceived wait time for those catching the various buses across the site.
Howard Smith, Dynamax's Director told us "We are delighted to have been part of this project. Our POVng content distribution and scheduling software integrated perfectly with the NEC's existing hardware, monitoring and creative requirements, making a key contribution to this new visitor information and way-finding system".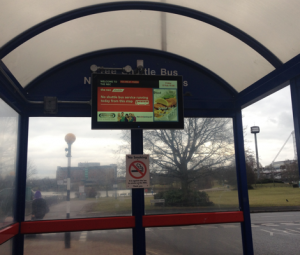 The NEC occupies a 610 acre site in the borough of Solihull, just eight miles from Birmingham City Centre and offers unrivalled flexibility across more than 186,000 square metres of covered exhibition space through 20 interconnecting halls, around 167 acres of hard standing and 75 acres of woodland.
David Hart, Project Manager at the NEC mentioned that "Dynamax's open approach to linking technologies together, such as XML and Flash, means we now have the flexibility to update the bus times, locations and visitor information simultaneously, resulting in an enhanced experience for our customers."
Welcoming around 2.1 million visitors each year, to a diverse range of around 138 trade and consumer events, the venue couldn't be better placed with complete connectivity to the national transport infrastructure – including direct access to the UK motorway network and a physical connection to Birmingham International Airport and railway station.