Adrian J Cotterill, Editor-in-Chief
Scala announced this week the completion of an eye-catching visual communication installation at the Frits Philips Music Building in Eindhoven, The Netherlands.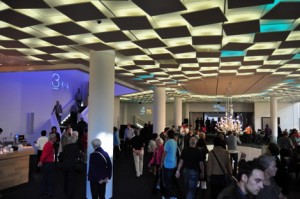 The install combines an intuitive way finding system (something that Scala are really well known for) with a high tech and ambiance setting entertainment system.
The project was lead by Scala partner Troades and was executed by Scala and AV-company Mansveld.
Regarded as one of Europe's top ten concert halls, Frits Phillips Music Building in Eindhoven needed to ensure that their new way finding and information system would measure up with both the visual and technical standard found already in their acoustically optimal concert halls.
Wanting to add value to their costumers experience by managing the atmosphere in the building to enhance the type of music played, they needed a high quality, stable AV solution. Furthermore they wanted to give the visitors easy access to information and entertainment other than the concerts, empowering the visitors to fully enjoy their musical experience.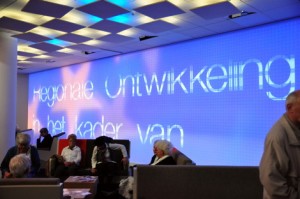 Frits Phillips appointed Hypsos, a global design and fabrication company, to initiate this process and together they decided to redesign and rebuild all visitor areas.
Scala was consulted at an early point to make sure an optimal digital signage solution would be installed in collaboration with Troades, a project management provider for innovative and high-tech digital signage installs. .
The results are an audio-visual feast, produced through a network that is easy to manage by the operational team via a touch panel. The innovative digital signage network is managed by a Medialon system which controls all AV hardware and lightning.
Greeted by an impressive, 13 meter wide and 3.5 meter high, multimedia wall in the foyer the visitors are accompanied by digital help throughout the venue. 25 Scala players are used for way finding purposes on various walls inside the building via projectors. These inform visitors about the program in the concert halls, the starting times of performances, the route towards a particular show/ hall and they indicate the upcoming or present shows at the entrance of the halls.
The logo of the Frits Philips Music Building was also updated and now it resembles a graphically redesigned form of the character 'M' and five very large LED versions of the logo are placed at the outside fascia of the venue (one Scala player powers these logos that continuously change color to attract the vision of people passing by).