Russ Curry, Ministry of New Media
JCDecaux SA, has announced the installation of four of the Group's six Intelligent Street Furniture items selected by the Paris City Authorities as part of its process to evaluate new projects.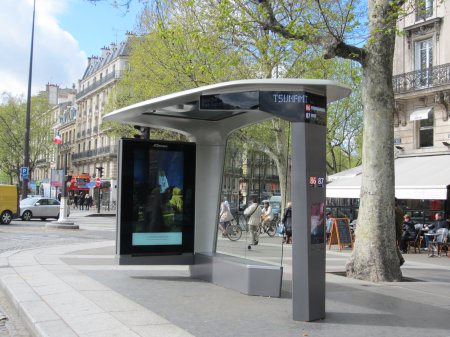 The company has designed 6 innovative items representing the company's vision for digital services in the urban environment. The aim is to make Paris easier to navigate and more accessible for the public.
It designed its offering around 5 major themes: discovering, getting information, sharing, working, and playing. Paris residents and visitors can experience the Concept-Bus Shelter, the "Décodeur Urbain" (City Box), the Digital Totem and Digital Harbour. Forthcoming innovative installations will include: the Digital Playground and the e-Village.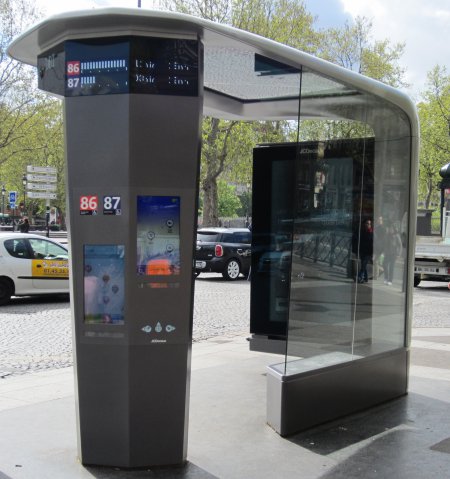 The Concept-Bus Shelter offers an array of multi-service innovations and is located on the corner of Boulevard Henry IV and Place de la Bastille. It represents the intelligent bus shelter of the future, combining unprecedented levels of comfort (a wider bench and roof, improved access and a glazed roof that provides lighting at night and filters the sun's rays during the day) along with innovative features such as a free WiFi connection, and mobile phone charging points. The bus shelter allows the public to find out more about Paris and the local area via a 72-inch screen displaying high-quality historic photos.
The bus shelter also offers a defibrillator monitored by a GPRS network, underlining JCDecaux's ongoing commitment to public service. A key part of this project was to provide practical, legible information that is easy to read from a distance. The screen is located above the bus timetables and displays news about Paris, France and the rest of the world. The bus shelter also enables users to view local classified ads, to find their way around the city and to find out about things to do in the neighbourhood.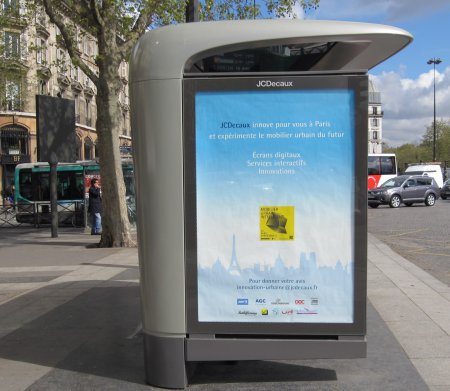 The Concept-Bus Shelter was created by the internationally acclaimed designer Patrick Jouin, who has previously worked with JCDecaux on the Group's street furniture and Vélib' bicycle docking stations. Partners such as Métalforming, Défibrillateur Opérationnel Connecté, Glass Unlimited and La Parisienne de Photographie are also working with the Group on this project.
We'll have more about the other installations in the rest of this 4-part series.