Gail Chiasson, North American Editor
Now this is another fun new product offering that really appeals to me because it gives consumers a chance to be creative and put something up on a billboard for a nominal price while giving the company a little revenue and drawing attention to the possibilities that digital out-of-home offers.
Envision the glee of a child seeing their Happy Birthday wishes on a billboard. A marriage proposal as you're driving past. Showing the house you're putting up for sale. Publicizing your new business address. The ideas are endless.
Baton Rouge-based Lamar Advertising Company new digital product gives consumers the opportunity to build their own billboard. Postr, introduced by Lamar initially in Little Rock, Arkansas, is a billboard with a digital component that allows consumers and businesses to post their message in minutes for USD 25 per day.
The Postr billboards are 10′ x 22′ with a 5′ x 20′ digital component. Customers can post their message on a Postr billboard in Little Rock in three steps: first, visit lamardigital.com/postr; next, upload an image; finally, enter a message up to 60 characters.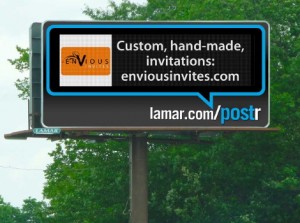 Users have the option to change their message up to twice per day, and they can reserve one of six Postr billboard locations up to two weeks in advance. They can choose the specific billboard location they want, and can even reserve all six boards if they want to pay USD 150. Users can also choose the duration that they want the message to run (minimum is one day and it can run up to two weeks).
The messages alternate. Each spot will be in a rotation and will play over 1,000 times per day.
"We can put up to eight spots on each billboard and they run for 10 seconds each," says Allie Leung, Lamar's manager of marketing communications. "If a location is sold out for the day, it will be grayed out on the website."
"Postr allows customers to post their message on a digital billboard in minutes and to complete the entire transaction online," says Sean Reilly, Lamar's CEO. "It is a cost effective product that works well for both small business and personal use."
Postr is being introduced in six locations in Little Rock, Arkansas.
"If Postr is successful in Little Rock, then we plan to expand into other markets," says Leung. Lamar Advertising Company has a total of 1,475 digital billboards across the U.S.
In addition to using media space on Lamar's digital billboards and Postr billboards in Little Rock to promote the launch, this special Postr social component is being promoted via other social media.
Users can also get updates/news about Postr by visiting our Facebook page and / or by following @LamarPostr on twitter.