Gail Chiasson, North American Editor
With the already big and ever-growing popularity of coffee chains and boutique coffee houses in Canada, it was fun to learn of Montreal-based Zoom Media Group Inc.'s new relationship with six Gatineau, Quebec-based Moca-Loca Cafe restaurants.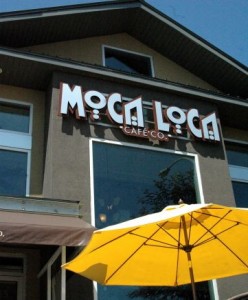 The partnership will greatly expand Zoom Media's presence in the Outaouais region and present high quality environments for its media placements to a discerning and highly engaged audience. The Moca-Loca Cafe chain joins Zoom's Resto-Bar network.
"This new addition of trendy venues represents a significant opportunity for us to expand our media offerings to our clients," says Éric Fortin, vice-president, operations and development, Zoom Media Canada.
Zoom has a number of fashionable and sophisticated clients whose customers closely match the demographics of the Moca-Loca patrons. The restaurants' relaxed atmosphere and enticing aromas lend themselves perfectly to a friendly get together or business meeting, providing targeted advertising opportunities for fashion, lifestyle and high end products and services.

Synonymous with good taste, Moca-Loca Co. is committed to offering a memorable experience in an ultra-modern atmosphere. Its customers enjoy fine coffees, gourmet teas and a wide selection of delicious, healthy meals and desserts. Moca-Loca is a concerned corporate citizen and is actively involved in the life and events of Canada's National Capital Region.
Zoom Media offers eight targeted networks. Matching the narrowly defined customer demographics of a specific venue or chain of venues, Zoom provides accurate targeting of advertising messages with a high degree of efficiency. The company has been expanding its network base and now numbers over 4,000 venues across 30 Canadian markets.
It provides third-party media measurement through Nielsen media performance audits of all Zoom clients. Zoom Media is a member of Canadian Outdoor Measurement Bureau (COMB) and provides audited circulation of its advertising panels which report 99.4% accuracy in its performance, the highest percentage of all OOH companies that are audited by COMB. Zoom Media is also a founding member of the Out-of-Home Marketing Association of Canada (OMAC) and a board member of CODACAN.
Overall, Zoom Media Group Inc. owns and operates over 80,000 billboards across North America and Europe, of which more than 26,000 are digital.