Adrian J Cotterill, Editor-in-Chief
Creating a new and modern shopping experience has been a top priority within the retail strategy of Denmark's leading telecommunication company TDC and with customers looking for interactive retail experiences, TDC asked Mermaid to help develop a new touch universe for all 61 of its retail stores.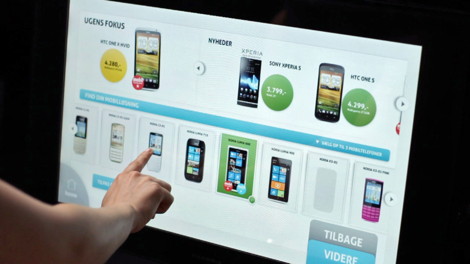 Anders Rasmussen, Project Manager at TDC told us "Mermaid's touch-application has brought a new dimension to our store environment. We can offer an interactive touch universe, which enables dynamic integration with existing systems, thereby minimising the manual effort at headquarters. Using only a few touches the customer is able to determine the most ideal product solution fitting their needs. The touch universe also serves as a perfect tool for assisted selling, fulfilling an essential need of our employees."
As part of TDC's new visual retail strategy, 120 x 40" vertical digital screens will also be installed and the whole agreement sees 200 x 23" screens with Dual Touch technology and 110 media players installed.