Adrian J Cotterill, Editor-in-Chief
October seems to have been incredibly busy for everyone we know and it seems that ahead of all of next week's events in New York, the industry is in very good health. Tomorrow (Saturday) sees most of our team fly out to New York in preparation for New York Digital Signage Week (the rest of the team join us on Monday).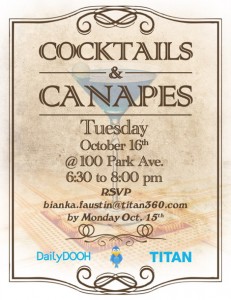 There's a lot happening next week and here's a day by day list of events to date: –
Monday 15th October
Tuesday 16th October
The DPAA Digital Media Summit this year (now in its fifth) is expected to draw 500+ attendees, the agenda has been published, there are lots of panel discussions and an extremely nice touch we think are the individual table lunch discussions which are being planned (once again, more on this later)
At 17:00 the DPAA event will adjourn for Cocktails
Across town, also at 17:00, but by invite only, NEC have their Showcase (Drinks) Reception until 19:00
Titan, the largest transit advertising company in North America is holding its own drinks reception after the DPAA event at its offices in 100 Park Avenue. Invites will be distributed during Tuesday's conference
Wednesday 17th October
Day one of the Digital Signage Investor Conference
The Digital Signage Investor Conference adjourns for cocktails at 17:30
NEC Display Solutions is holding the New York leg of its really popular NEC Showcase from 10:00 to 16:00 (open to all)
At 17:00, again by invite only, NEC have their Showcase (Drinks) Reception until 19:00
At 17:30 by invite only, Bloomberg Digital Out of Home Cocktail Reception, in partnership with Telecine, Scala and DailyDOOH
Thursday 18th October
Day two of the Digital Signage Investor Conference
PRN (now IZ.ON Media of course) want to keep it quiet and low key and it may not even be called an upfront but their annual media get together will definitely be much smaller than in previous years and likely held on the Thursday evening
There are a number of other events happening, including a number of breakfast events which we will be able to report on shortly. Either way, we hope to see hundreds of you in New York City next week!