Guest Contributor, Thomas Dockter
The Digital Signage Best Practice Awards are once again being presented at this year's viscom frankfurt and companies from all over Europe have until 31 July to submit their completed projects.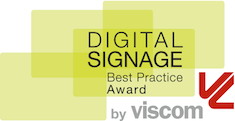 Who can take part?
Any European involved in carrying out digital signage projects is entitled to enter – hardware providers, agencies, integrators – but also the clients who commission the project in the first place.
At least 80 percent of the project being submitted must have been completed between 1 January 2011 and 31 July 2012.
What makes the Digital Signage Best Practice Award special is the international jury
The jury should reflect a real project team in terms of the different skills categories. These include an IT expert who knows all about hardware and software. A juror with retail experience who knows what retailers are looking for. Shopfitting jurors who know how solutions have to be integrated to ensure they work properly and look good. There should also be someone who's familiar with interaction design. And then there's a press representative, to make sure that the media are involved.
We also try to put one of the previous year's winners onto the jury for greater transparency. This year we are proud to have Simone Jürgens head of digital media at Miele & Cie. KG.
All projects nominated for the short list will be presented at a dedicated area at viscom frankfurt.
For more information click here