Adrian J Cotterill, Editor-in-Chief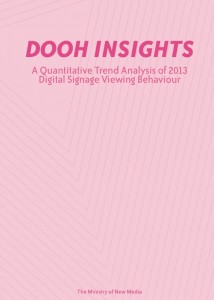 We continue to make great progress on our next publication entitled 'DOOH INSIGHTS: 2013 | A Qualitative Trend Analysis of Digital Signage Viewing Behaviour'.
This is based on over a year's worth of automated audience measurement data from 93 networks around the globe.
The report will retail for USD 3000 (GBP 1850) and will be of interest to network owners, brands, media buyers and various eco-system folks (especially in this instance, 3D vendors as we have some great data that will help set them apart).
Sorting through the data we have already observed some really interesting facts – most of which will really make the OOH industry (especially the Arbitron / Nielsen combined entity) sit up and listen.