Gail Chiasson, North American Editor
San Francisco-based RMG Networks has announced an exclusive digital media partnership with Row 44, provider of in-flight WiFi and device-based entertainment for airlines around the world, to monetize the in-flight media assets on the Southwest Airlines WiFi Portal managed by Row 44.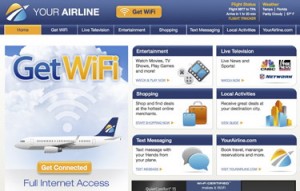 This partnership adds in-flight digital media assets to RMG's robust travel media portfolio, and now includes Southwest in its fleet of U.S. airlines.
With an average flight time of nearly two hours, passengers are looking to be engaged, and RMG's expanded Travel Media Network provides advertisers with tools to engage and activate an affluent business audience at 30,000 feet.
RMG, the leading in-flight digital media company in the U.S., now represents the WiFi and in-flight entertainment portal across the Row 44-equipped Southwest fleet, giving brands unmatched access to more than six million travelers each month. Fully interactive in-flight media tactics allow brands to activate and engage passengers on more than 350 Southwest Airlines aircraft, and will roll out to more than 400 planes by the end of the year.
"With Row 44, Southwest is deploying technology that enhances the passenger experience and creates a bring-your-own in-flight entertainment system," says Garry McGuire, CEO of RMG Networks. "Brands recognize the value of the travel audience and the ability to reach them within the in-flight context. Digital media represents a huge opportunity for marketers looking to engage and activate this hard-to-reach segment."
The addition of Southwest through Row 44 expands RMG's media fleet to over 2,000 aircraft in the U.S. and offers marketers the ability to insert ads into live television through Row 44's streaming IPTV media product. The system also provides WiFi Internet access that will include display advertising on the landing page and other sponsorship opportunities.