CBS Outdoor UK announced this week the launch of its Commuter Kitchen content strand, which will see actress, presenter and TV chef Lisa Faulkner creating mouth-watering dishes, developed especially to tantalise the taste buds of travellers on the London Underground.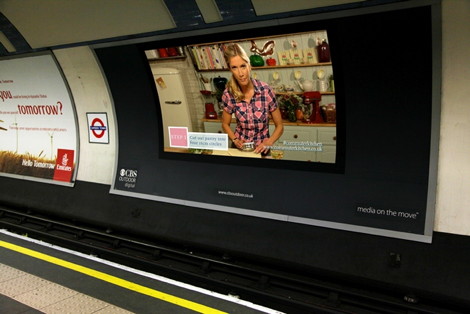 Lisa Faulkner's exclusive video recipes will appear on CBS Outdoor UK's cross track projection screens in Tube stations across central London. Lisa, Masterchef winner in 2010, has also written a book entitled 'Recipes from my Mother for my Daughter' and is currently co-hosting Channel 4's cookery show 'What's Cooking?'.
Commuters will be able to access a selection of videos and ingredients used in the recipes by visiting – www.commuterkitchen.co.uk – where they will also be able to vote for their favourite recipes in addition to posting comments on Twitter via #commuterkitchen
Jason Cotterrell, Managing Director at CBS Outdoor UK told us "This attention grabbing series reinforces our commitment to understanding the valuable urban audience through our work.shop.play. research, and using those findings to develop engaging content for London's commuters. Commuter Kitchen also aligns with our strategy of developing the cross track projection format as a content channel across the network. This builds on our hugely successful partnership with Timeout which saw a 45% increase in its website traffic since the launch of the campaign".
Working in collaboration with Simon & Schuster, this is the first in The Commuter Kitchen series, that will bring delicious yet easy to prepare recipes from a selection of London's up and coming chefs on cross track projection screens across the Tube network.