Gail Chiasson, North American Editor
Proximo Spirits in New York is developing and testing an iPhone screen application for tech-savvy consumers to locate their favorite brands on the go.
The mobile screen on their iPhone will be the next step following Proximo's launch Feb. 9/09 of an innovative tool on its Web sites, allowing consumers to locate their favorite brands of Proximo liquors: Three Olives Vodka, 1800 Tequila, Gran Centenario, Ron Matusalem and Maestro Dobel. The bar and liquor store 'locator' is designed to provide consumers with an easy means of finding their favorite brands, as well as discovering new flavors, retailers and hang outs that cater to their tastes.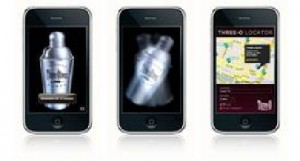 By entering a zip-code, street address or city, and then choosing 'bar' or 'liquor store', consumers are shown an interactive map with the names, addresses and telephone numbers of locations serving the spirits within any stated radius.
The feature is currently active on the Proximo Corporate Web site, as well as the specific Web sites for each brand. The mobile iPhone application will soon also be downloadable we believe.
Proximo Spirits Inc., a family-owned company, is a producer, importer and marketer of prized spirits in the U.S..