Last year's #NECshowcase (as did the year before if memory serves correctly) saw a very nice video wall from PSco (see below)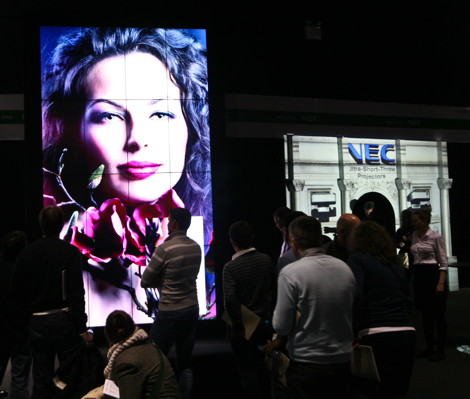 This year, once again, PSCo Technical Distribution will be displaying a show-stopping Innovation Videowall package incorporating a 16 screen videowall using 55" (X551UN), 46" (X463UN), 40" (P401), 29" (EA294WMi) and 23" (EX231W) NEC LCD displays, in both portrait and landscape orientation.
These will be mounted onto Unicol brackets, manufactured specifically for PSCo following close collaboration between the two companies on videowall mounting design and development.
Stuart Holmes, CEO of PSCo Group, commented "PSCo has been first to showcase NEC's line of outstanding videowall products at the last three events and we will continue to inspire innovation with our Innovation Videowall package this year. We are proud to bring these three manufacturers together to deliver the most cutting-edge videowall technologies and accessories in a complete display solution that can be tailored for specific markets and according to the individual requirements of our channel partners."
Content will be driven by one PC – we believe it's likely a now almost defunct Harris system, Ed – at Quad HD resolution by Dual Link DVI, plus four Datapath Display Wall Controllers, and a Datapath dL8 Quad HD distribution amplifier.