Gail Chiasson, North American Editor
We may be wrong, but we believe that a new book by Aga Bojko, vice- president of GfK's User Experience team, is the first book on applying eye tracking methods to making interfaces more effective.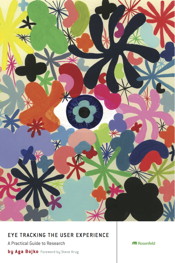 Eye Tracking the User Experience: A Practical Guide to Research, recently published by Rosenfeld Media, offers step-by-step advice on how to plan, prepare, and execute eye tracking studies; analyze eye movement data; and successfully communicate eye tracking findings.
The book will have its West Coast launch at a client reception on January 23 at GfK's recently unveiled UX testing facility in downtown San Francisco. Bojko will be on hand to discuss eye tracking and sign copies of her book.
Over the past ten years, Bojko has authored numerous articles and book chapters on eye tracking, as well as presenting on the subject at many user experience conferences worldwide. She has conducted UX studies for dozens of clients in a variety of industries.
As part of GfK's User Experience team, Bojko helps companies understand how users interact with almost any product or service, encompassing industries from health to automotive to consumer.
GfK is one of the world's largest research companies, with around 13,000 experts working to discover new insights into the way people live, think and shop, in over 100 markets, every day.. In 2012, GfK's sales amounted to €1.51 billion.
Published: December 2013 Paperback: 320 pages, ISBN 1-933820-10-1 Digital: ISBN 1-933820-91-8