Gail Chiasson, North American Editor
This month, we welcome Eric Marotel, Managing Director, CEMUSA, Madrid, Spain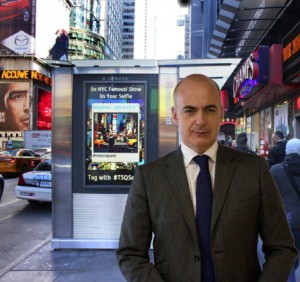 CEMUSA is in 170 cities in five countries with more than 71,000 units. Are these all street furniture?

Being street furniture our core business, most of them are structures placed in the urban layout of cities for public use. Contracts in major cities including New York, Madrid, Rio de Janeiro, Barcelona, Boston or Lisbon are a showcase for our award winning street furniture designs and our high standards and services. Last year, we also entered into airport advertising in our domestic market, becoming the leading contractor managing 41 of the 49 Spanish airports.

What percentage of these are digital?

Currently revenues coming from digital displays in markets where we have been able to update our inventories range from 5% to 20% per market. CEMUSA has been one of the pioneers in the installation and marketing of digital street furniture networks. We were, for instance, the first to provide a street-level digital billboard network in New York. In Madrid, we have installed 50m2 LED screens while in Barcelona we operate 'Rambla Digital', a great platform that communicates advertising messages in one of the most hectic and exciting areas of Barcelona. It is made of newsstands featuring 7m2 LED screens that line this main artery of Barcelona, through which over 80 million visitors pass every year.

We have just brought this experience to the Spanish airport market, and digital products hold centre stage in 13 of our airports. Eye-level and free-standing elevated panels, columns or large formats such as video walls or projectors have been located in areas of optimal visibility, allowing brands to provide a more proactive, positive and engaging experience to customers within the airport environment. Digital products have acquired greater relevance and CEMUSA is committed to promoting their implementation.

And where does your recent entry into airports fit in?

CEMUSA is focused on being a leader player in street furniture advertising and this new contract consolidates the diversification of its portfolio by offering brands a high-quality complement to its street furniture networks. As a matter of fact, we consider airports as an extension of cities. It is a highly relevant environment where people can buy, enjoy a food experience or be entertained and informed. In this sense, airports are the perfect place to offer a premium product to high profile customers.

Spain is the best market to develop our know-how and optimize results, since it is one of the world's top three international tourism destinations. It is also the third most popular destination worldwide for business incentive travels, being that Madrid and Barcelona are two of the top five international cities that host the largest number of business meetings. This new airport contract consolidates our strategic position in our number one market and provides us with valuable know-how.

The company was founded in 1984. By whom? Was it an independent company? Or how and when did it become an affiliate of the huge public services and construction company Fomento de Construcciones y Contratas in Spain?

In reality, CEMUSA has been always linked to the FCC Group, one of Europe's largest groups in the provision of high-quality services for citizens. Specifically, it was established in 1984 and it is interesting to note that it was in fact created by FCC in order to address an increasing demand by local authorities for high quality street furniture. After its creation, CEMUSA started its activities in Spain, working as an independent company within FCC, but soon targeted other international markets such as Portugal, Italy and South America. Since then, it has worked hard to strengthen its relationships with its partner cities and to expand its activities to new markets like the US.

How does being part of a big public company help CEMUSA? And hinder it?

CEMUSA has benefited from FCC's 100 year-service philosophy and it keeps following the tradition of service to cities and local commitment. At CEMUSA, we usually create excellent and fruitful partnerships with the cities where we operate by maintaining a constant dialogue with city halls, transit agencies and other awarding authorities. This is perhaps what differentiates CEMUSA from other companies mainly focused on advertising.

This positive influence has not been one-sided. CEMUSA, in its turn, has helped FCC to consolidate its presence in such important markets as the USA by winning the world's largest contract with the New York City back in 2006. In every market, the performance track of CEMUSA must always be in line with our high standards and a reference for the rest of the group activities.

How is the company managed in each country? Who heads your North American operations?

Our company is headquartered in Madrid, Spain, and it acts in all the countries outside Spain via wholly owned subsidiaries managed by a country manager. This approach follows our corporate model, setting up local operating companies that report to the corporate offices in Madrid, which in turn give full support regarding general management, commercial and marketing, financial issues, technical resources and more. In North America. we currently have offices in New York (US HQ's), Boston and Los Angeles

What exactly is CEMUSA TEC and where and how does it fit into your operations? Who heads that division worldwide?

This brand was originally born in Portugal in 2010. It was set up as an innovation unit focusing essentially on the development of advertising solutions connected with new media; so it complements the overall value we offer to clients by new digital and interactive format extensions. Initially addressing the point of sale and urban dynamics, CEMUSA TEC has developed high-impact solutions such as interactive carpeting, digital promoters, specific digital solutions for retail business or the 'experience cube', an enclosed structure with interior 360° projection systems. One of its innovative mobile solutions is CEMUSA's own augmented reality App called CVision that allows interacting with the real world and seeing virtual objects through the camera of mobile devices.

The team managing CEMUSA TEC works now internationally according to the growing needs of the advertising industry.

Please give us your personal background. How did you get into the street furniture and digital business(es)? What do you feel that you brought from your previous positions that you've been able to apply to CEMUSA?

I have always been involved in services and, for the last 25 years, I have been working in the advertising industry covering direct marketing, traditional media such as print, TV, OOH as well as new media. You can answer better and better your customers needs by knowing the possibilities of the changing media industry.

To be successful today, you must be able to expand your activity in any market and to achieve the integration of technology in your existing portfolio. In this way you become a real partner of your clients and help them to anticipate and optimize their future development. Over the last 10 years, CEMUSA has experienced a huge evolution becoming more international, more technological and more consolidated as a leading company in the sector. People trust is our first value and also our best reward.

I believe that you are a client of Ayuda Systems. What do you use from that company's product list and where?

Yes. As a result of a quite long process, we have a common methodology in order to adopt similar standards around the world. We have been working closely with Ayuda Media Systems in order to first optimise the management of both digital and traditional OOH networks' sales and operations workflow of CEMUSA Airports in Spain.

So far. we have used BMSTM platform to fully manage our inventory, sales, planning, operations and invoicing. Thanks to the Proof of Performance product, CEMUSA's clients can track the performance of their campaigns online on the CEMUSA website. Finally, Juice, a product also designed specifically for OOH advertising, allows Cemusa's sales executives to manage all aspects of sales, including the possibility of viewing sales inventory and availabilities in real time through mobile devices, which enables them to generate proposals and bookings in a timely and efficient manner. This last product also includes a CRM application that provides management of leads, contacts, appointments, reports, etc.

A second phase will follow with the implementation of this software platform to manage street furniture assets in Europe and gradually we will cover the rest of international markets where CEMUSA carries out its activities. 2014 is expected to be a challenging and promising year for our teams.

What are the key points to be considered in developing street furniture to blend with a city's surroundings?

Our first approach consists of capturing the spirit and character of every city and the different characteristics of its several neighbourhoods. The best design uses are to be simple, functional, comfortable, timeless and eco-friendly but we usually open a process, which has our portfolio as starting point, in order to integrate opinions and experience and determine the best options.

Whether we transform existing designs of our portfolio or we create new ones, they must fit perfectly with the urban environment and the elements that are already; in summary, they must reinforce cities' identity. On the other hand, it is also a guarantee in terms of the fact that CEMUSA collaborates with world-renowned designers and prestigious architects who are specialists in designing for urban settings. Thanks to them, CEMUSA has won several awards that recognize the aesthetic and quality of its designs.

Finally, it is also of paramount importance for CEMUSA to carry out initiatives related to reducing the environmental impact and using environmentally-friendly materials. The integration of the latest technologies into our street furniture is also aimed to minimize its environmental impact (great energy efficiency by means of LED lighting systems, use of sustainable energy sources through solar energy panels, etc.), as well as to improve the quality of the services provided to both users and advertisers (incorporation of WIFI, digital displays, electronic ink…).

According to your website, the differentiating feature of CEMUSA's products is that personalized items for point-of-sale are offered with a turnkey formula through a rental system. Other companies offer turnkey operations using either all their own products and services or, more often, with partners. So what is the difference with yours?

CEMUSA is one of the few companies in the industry that are accountable for the whole process. We are a full-service company because we know that excellent designs combined with excellent operations and maintenance have a direct impact on cities, users and advertising. We do not subcontract or outsource functions such as maintenance or operations except in very limited cases; this is more common in companies specialized in street furniture but less so in others that simply don't have the necessity of the partnership value and the experience with the public authorities in their DNA.

Street furniture has been our core business over the last 30 years and all our efforts and resources focused on our service delivery. Users expect any public service such as street furniture to be fully well managed and able to deliver the best service everyday at any time. This is really the essence of our industry and more than ever our priority at CEMUSA.

You have a 20-year $1.4 billion agreement with New York City that calls for the installation of 3,300 bus shelters in five boroughs. Are they all digital? How many have now been installed since that 2006 agreement?

Since 2006, we have installed 3,350 bus shelters and 305 newsstands. Our digital aspirations are restricted by the zoning laws in New York City that still only allow digital signage in certain areas of the City. We have 10 interactive digital newsstands in the Times Square and 34 Street areas. More screens will be operative in 2014 in Manhattan.

Generally speaking, the local or national regulations are the main obstacles to benefit from the new technological development of the digital industry. Today, most of the digital devices have been displayed indoors where advertising with motion is allowed and creativity unrestricted. The industry, through its forums, main stakeholders or associations such as FEPE, our international OOH association, work to have a common and clear legal environment that contributes to integrate digital much better into our business model.

That agreement also gives New York City $400 million worth of advertising on CEMUSA's street furniture in other cities around the world. Is this a unique agreement, How does it work out?

We are pleased to be able to offer this facility allowing New York City to promote itself in our other markets. This arrangement provides a great boost to the tourism economy of New York. We enjoy a very good relationship with NYC&CO, the marketing arm of the City and this unique arrangement has worked very smoothly.

Public toilets were also part of the New York agreement. Are digital screens part of the design? How many have been installed?

Of the 20 that were included in our contract, only three have been installed to date and a fourth in on its way. We install these Automated Public Toilets when we are instructed to by the NYC Department of Transportation whose task is looking for suitable locations considering their residential or commercial environment. They comprise no digital signage.

In 2006, there was little or no talk of Bluetooth and Wi-Fi. Have you added these into the first bus shelters that were installed in 2007 and later?

Bluetooth and Wi-Fi technology are not currently a permanent feature in our shelters. We provide both on a campaign by campaign basis when advertisers do require it as part of their strategy to achieve higher customer engagement.

You source between 50% and 80% of products manufactured locally where you are located. In that something that you have done from the beginning? Does it increase costs? Why do you think it is important?

This was a requirement included in the New York City Request for Proposal. There is no such obligation in other street furniture programs. However, since we installed our first shelter in Madrid, Spain, we have been developing know-how and excellent partnership with local manufacturers in all our markets. It is with good reason that our corporate slogan 'Part of your city' stands for one of our main core values: local commitment to fully answer cities needs in terms of design, delivery issues, maintenance, economic and social contribution, etc.

You have also installed 10 interactive digital newsstand screens in New York. Are they part of the original New Your agreement or something new? Where else do you do newsstands? And do you handle building of the entire structures?

In the US, our newsstands are in New York only. They were built by CEMUSA and designed by Grimshaw Industrial Design LLC.. Digital panels were not expressly featured in our original agreement. In 2010, we converted eight of the existing Newsstands in the Times Square area to digital properties. Currently, we operate 10 digital units.

We recently secured a new contract for newsstands in Barcelona, actually bigger than in New York, where we will manage 400 units. We also have quite a number of newsstands contracts in Malaga, Lisbon, etc…

I believe that the New York newsstands agreement is in partnership with Monster Media for backend analytics. How you handle analytics for your other properties in New York and other cities around the world?

In New York, Monster Media provides analytics for clients running interactive campaigns. Non-interactive digital is handled by Show + Tell, our NY-based content providers who provide statistics including Proof of Performance Data.

Thanks to the outdoor audience measurement tool GEOMEX, outdoor performance in terms of reach and frequency can be precisely calculated in Spain. We have also worked with several digital Content Managers that provide Point-of-Purchase data but now that the implementation of our digital offering in the Spanish airports has finished, the next step is to focus on exploiting all the possibilities of digital advertising and providing our clients with the most possible comprehensive POP data. We are making every effort to extend this successful marketing and commercial model to all our markets

As an affiliate of FCC, you are considered a socially responsible company. Please tell us a bit about this.

Commitment to socially responsible actions is included among the strategic objectives set by FCC and undertaken by CEMUSA. These actions are mainly focused on the social, economic and environmental improvement of the cities in which it operates; to do this, CEMUSA follows the guidelines of FCC's Corporate Social Responsibility Master Plan, which is evidence of the strategic importance of this area in the company.

This commitment to corporate social responsibility has attained international recognition by its inclusion in the most prestigious sustainability indexes. FCC has been listed on the Dow Jones Sustainability Index and the FTSE4 Good Index for six and four consecutive years respectively.

How has the economic situation in Spain, and Europe in general, affected your company in the past couple of years?

After a first severe impact noticed in the US economy mid-2008, crisis really hurt southern European countries by the end of 2008 and extended to the rest of the continent, having a relevant and immediate effect on financing and consumption.

Being that trust and consumption are key factors in the advertising industry, the economic downturn represented a real challenge to our company and to our people, who had to adapt to new times. We had to be more cautious when analyzing new business opportunities and managing operations in our existing markets.

Our diversification strategy has also been of paramount importance in this period. For example, our geographical diversification has helped to offset the impact of the crisis since, while sales figures decreased in the European markets, our North and South American branches reported a double-digit growth. We also decided to broaden our portfolio in our number one market by entering into Airports, which enabled us to become the leader in Spain in this attractive market segment. Since both activities are fully complementary, synergies were immediately created with our street furniture and, as a consequence, CEMUSA plays a stronger role vis-à-vis the main stakeholders in the advertising industry.

What do you foresee for your business sector and for CEMUSA in particular in 2014?

The crisis is not over, but the evolution seems now to be positive for 2014. We just need to focus on how to rebuild positions in our respective markets. Recession has been a real challenge for the industry, but not the only one.

Since the late '90's, new companies have been entering into our industry and had to fiercely compete with the existing ones to win market shares as quick as possible. This has been done in detriment of margins and considering the current level of business and market, I believe that the evolution of the industry will include a market correction, meaning that companies will have to reflect the real value of their assets according to market consideration. Clients already push in this way. As a consequence, we may not only see newly merged companies in the market but also new ones, probably smaller and focused on becoming real regional or local leaders.

Smooth recovery is expected in 2014 and our company, whose weight has increased significantly in our top markets, should take advantage of it. While America will benefit from the World Cup, our European markets will make the most of the positive Spanish performance.