In Spain Inspección Técnica de Vehículos (ITV) is very similar to the UK's MOT, basically a vehicle / automobile check carried out in a test center that has a concession from the regional government.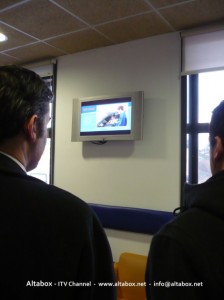 Here we see Altabox having deployed a communication channel in the inspection stations for ITV.
The channel's main purpose is to entertain and inform the public about their automotive news, the inspection process and the benefits they get with the service offered by ITV.
Francisco J. Rodriguez, manager of ITVASA told us "Since we started with this program, we notice that it is easier to communicate with users and they appreciate the fact of knowing all the steps of our intervention in their vehicles"
He added "As a way of training for our clients, Digital Signage helps us to provide advice on road safety and environment. With no doubt the channel helps to improve our image".
The project which started in the ITVASA stations in Asturias will likely spread to other regions in 2009, thanks to a tie up with AECA-ITV, the Spanish association of ITV administration partners.