Gail Chiasson, North American Editor
Mad Jack, a recently-launched premium apple lager from Molson Coors, has partnered with Play Taxi Media to introduce a fun, interactive brand-themed game on taxis screens across the Greater Toronto Area.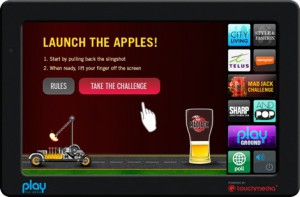 The launch of the refreshingly crisp alcoholic beverage is supported by Toronto agencies MEC and MonkWilliams, and sold exclusively through The Beer Store in Ontario.
To promote the product, Play's network of interactive touch screens has been configured to offer riders an engaging interactive game where they are challenged with using a slingshot to land an apple slice into a lager glass, with an offer to learn more about the product.
The main campaign objective is to drive awareness for Mad Jack and direct drinkers to The Beer Store for trial. Preliminary campaign results show Play riders love the brand: in the first four weeks the campaign generated close to 3 million impressions from over 1 million riders with an EyeReturn Interactive Impressions count of over 54,000. An average of 5.3% of all riders have entered the app and are spending an average of 128 seconds engaged during each ride.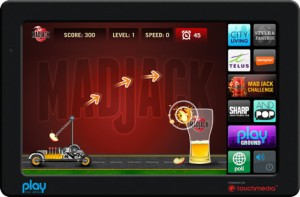 Since the campaign's launch, over 1,900 hours of interaction time has been logged in direct promotion of Mad Jack.
Sammy Rifai, senior media planner with ad agency MEC, Toronto, says, "When we started planning, we knew Mad Jack was a unique product in a congested category, so we knew it would be important to find unique touch points to combat the clutter.
"We took a David vs. Goliath approach using this innovative touch point as a way to differentiate ourselves. Few vendors offer the opportunity to not only reach a captivated audience but to have them engage with a brand in a fun and interactive way. We are essentially
teaching them about the brand through a fun game that is relevant to the target audience."

"Alcohol campaigns rank very high on our screens," says Zac Killam, CEO, Play Taxi Media .
It's possible to interact with the campaign online, through the Play Taxi website.