New York Digital Signage Week
New York Digital Signage Week takes place Monday October 14 to Friday October 18, 2019.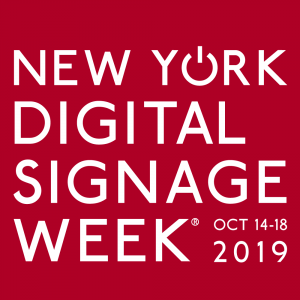 Once again the week will be the usual heady mix of FREE and PAID for events – conferences, showcases, cocktails, open houses, breakfast debates, tours and other ad-hoc activities. Last year 32 events took place during the week.
The suggested hashtag for the week is #NYDSW.
To help people put on their own events, we've created 'Your Guide To Creating a Pop-Up Event During New York Digital Signage Week'.
Email Russcurry@gmail.com if you want a copy, which explains how easy and beneficial doing something during the week can be.