Adrian J Cotterill, Editor-in-Chief
Since 2017 our sister site aka.tv has shown that twitter traffic for many big shows has been falling and unlike reported attendance figures (make of that what you will) shows in general have not seen year-on-year increases in twitter traffic since then.
This drop in twitter traffic has been seen with CES, ISE and InfoComm but interestingly not with IBC, NRF or DSE who have all seen rises (respectively, two quite big, the other slightly smaller, but a rise just the same).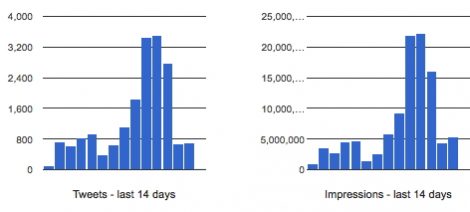 This year for #InfoComm19 the numbers across the board were all down quite considerably from previous years.
Attendees claimed patchy cell coverage and poor wifi throughout the show period which will, no doubt, have affected Twitter. This is partly borne witness by the especially poor amount of twitter on the opening day proper (day #1 June 12, 2019). It is rare that any event has higher day 2 tweets than opening day 1, yet this was the case in Orlando.  This may well have put some people off of engaging on social media for the rest of the show, either way day 1 Twitter was poor rather than day 2 Twitter being exceptionally good.
Here are last week's figures and below that, statistics for the three years prior: –
#InfoComm19 held in Orlando, FL. Attendance 44,129
No. of Tweets: 22,334 (down 30.0% from Las Vegas in 2018)
No. of Twitter impressions: 125,994,924 (down 59.1% from Las Vegas in 2018)
No. of Twitter users who tweeted: 2,958 (down 44.5% from Las Vegas in 2018)
No. of Twitter users reached: 9,862,305 (down 36.5% from Las Vegas in 2018)
#InfoComm18 held in Las Vegas, NV. Attendance 43,000
No. of Tweets: 32,090
No. of Twitter impressions: 309,845,589
No. of Twitter users who tweeted: 5,351
No. of Twitter users reached: 15,571,931
#InfoComm17 held in Orlando, FL. Attendance 44,077
No. of Tweets: 23,064 (down 31.4% from Las Vegas in 2016)
No. of Twitter impressions: 122,513,287 (down 18.3% from Las Vegas in 2016)
No. of Twitter users who tweeted: 4,068 (down 21.6% from Las Vegas in 2016)
No. of Twitter users reached: 8,883,412 (down 36.7% from Las Vegas in 2016)
#InfoComm16 held in Las Vegas, NV. Attendance 38,833
No. of Tweets: 33,771
No. of Twitter impressions: 150,485,480
No. of Twitter users who tweeted: 5,206
No. of Twitter users reached: 14,088,856