Implementing digital signage for any large esports or traditional venue must be done in tandem with the venue's broadcast control room.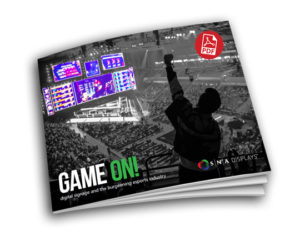 However, in its recently released eBrief, SNA Displays discusses several ways esports venues are distinct and more evolved than those of traditional sports.
'GAME ON!: Digital Signage and the Burgeoning eSports Industry' examines the explosive rise of esports, technical considerations for choosing the right LED display technology, and how digital signage will continue to drive dynamic and exciting spectator experiences in esports for years to come.