Adrian J Cotterill, Editor-in-Chief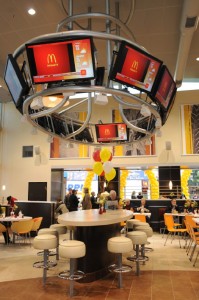 We take any announcements with regard McDonalds' digital signage with a huge pinch of salt and many cynics would also say that those from Harris should be treated in the same way so the question is what exactly to make of the announcement at the beginning of NAB of a 20 site McDonalds rollout after successful trials at two restaurants in Vegas and one in Norwalk, California?
We think that 20 sites is actually incredibly insignificant. Having been involved in a 'massive 10 restaurant rollout' in the UK 4 years ago ourselves (errr that would be 10 out of 1,200 in the UK) – 20 out of how many in the US (?) is a drop in the ocean and nothing much to shout about.
Many McDonalds pilots have been ongoing since 1998 and this looks to us just like another 'divisional test' (as opposed to corporate) and the relationship is definitely not exclusive – Nanonation for example is also involved in a divisional test as well as the bigger players we know of who are 'in' at the corporate level.
McDonalds is one of those corporate beasts that has the added governance issue of being driven by powerful franchisees. You would have thought that a brand as powerful as McDonalds had a strong technology centre but absolutely not so.
This is a relatively local initiative and we bet that it will not be replicated elsewhere in the US anytime soon.