Gail Chiasson, North American Editor
eCeptacle apparently took a lot of attention at #CES2016 and the young start-up company has received requests from as far away as Ecuador, although it is just starting production and deployment.
eCeptacle manufacturesand distributes what it is promoting as the world's smartest #IoT commercial trash bin. eCeptacle's PowerBin is a Wi-Fi-enabled compacting trash receptacle that collects and compacts solid waste, sends notifications when the bin is at full capacity, and, with two digital screens, has the ability to provide information and warnings to the public.
"We have been taking orders from two municipalities and from one Fortune 500 company for its corporate campus," says Grant Jenkins, founder and majority partner, eCeptable, located in Carmel, Indiana. "We deployed our first PowerBin in December at the Big 10 Football Championship Game in Indianapolis."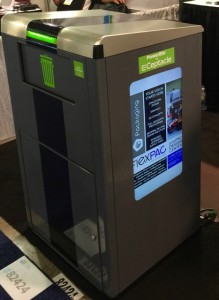 Developed by former banker Jenkins in cooperation with Rose Hulman Ventures and the undergrad engineering student and faculty at Rose Hulman College, in Terre Haute, Indiana, the PowerBin provides an intelligent waste management system that increases efficiencies, reduces costs, adds incremental revenue streams, provides a WiFi mesh network, enhances public safety and public awareness, all while shrinking the environmental 'footprint' for municipalities and organizations.
We asked Jenkins what is the main difference between the PowerBin and others such as Big Belly that we have seen in New York – we profiled this in the New York Digital Signage Week newspaper in Nov./15, Ed.
"We are greener in that our patented compaction system takes its energy from the user in-putting the garbage," he says. "The user uses a foot pedal to open the chute, which stores that energy, and then releases the energy to run our compaction system. No power is needed for our compaction. Then our patented optic and weight sensor system measures it and when the trash reaches a certain weight or size, notifies the owner that it's time to empty it."
The PowerBin, which occupies a 2 1/2 sq. ft. footprint (which the developers are working to shrink) is a WiFi hot spot with an approximate one block range and has two 32" digital screens. eCeptacle offers an optional camera that either offers constant live feed or, using a geosensor, can be triggered by impact or loud noise such as a gun shot.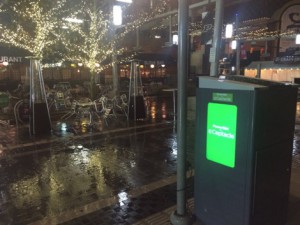 "We expect about 20% of our clients will want the camera," says Jenkins.
Since the units need to be plugged to 110 volt electricity, Jenkins says that he sees them being used against building walls indoors or out, or hard wired to electric poles in parks and other outdoor areas.
"We can foresee college campuses, depending on their size, using between 25 and 100 of the units," says Jenkins.
As part of the company's product, it has a security feature: DigitalMace, a smart phone App with a virtual panic button for someone to use if they feel threatened. It alerts the trash can and automates a siren (and the optional camera) and call to authorities who will know the area of the person calling from the location of the PowerBin and/or the GPS on the person's smart phone.
Any training needed is provided by eCeptacle and most repairs can be handled remotely.
The PowerBin has been two-and-a-half years in development, but eCeptacle isn't finished yet. The company can offer a blue recycling PowerBin available, with energy also provided by the user and basically the same technology. And a version using a battery, presumable for use in areas where no electricity is available, is expected to be ready by late summer, 2016.
Since eCeptacle is just getting started, Jenkins and his co-owners: Terrill Krigger, Scott Fankhauser, Jonathan Polak, and Lou Jenkins, have been relying on marketing by word-of-mouth, press articles, and its appearance with a sample at #ces2016, but interest has been high. The partners bring a variety of executive-level skills to the table: law, sales, finance, operational delivery and contract management, investment direction and more.
"Combined with the IoT benefit the PowerBin offers, we have the most unique product in this space," says Jenkins.
The digital screens offer capabilities for real time, geocentric advertisements, consumer interaction through beacon technologies, as well as having the ability to alert everyone in certain areas of weather warnings, Amber alerts, and other updates assisting in public safety and information.
At this early stage, the company has, what Jenkins calls, "a loose partnership with an agency" to have advertising on the digital screens, and is depending on selling the PowerBins to clients who will handle their own advertising. eCeptable will outright sell the PowerBin for about USD 6,500 or lease the can to municipalities; and, eventually in specific locations, "we may give the device away for no charge and offer advertisement revenue splits for high traffic areas, so the PowerBin can actually be a revenue generator for eCeptacle's clients."