Adrian J Cotterill, Editor-in-Chief
It's green, it scrolls, it has a zero carbon footprint, it's a great idea and really well engineered (as you would expect from it's German manufacturer) but it may not win any awards from those who are worried about 'visual clutter' or 'urban pollution'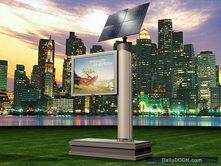 Heinsberg-based DISTEC GmbH have developed the first solar-driven scroller for outdoor advertising shown as a mock up here.
The posters are backlit with special LED tubes made by Enblue – these LED tubes have been optimized for the solar powered system in terms of consumption and beam angle so that they achieve an adequate and, above all, plane illumination of the posters.
The solar unit, developed by DISTEC uses premium quality monocrystalline panels manufactured by Schott® – the solar unit tracks (the sun) by means of a two-axis tracking system, horizontally up to 270°, and vertically up to 85°.
As it automatically follows the course of the sun it manages to generate approximately 40% more power than conventional, static solar cells.
DISTEC tell us that there has been big demand from a number of outdoor advertising companies.
Michael Schoening, DISTEC's CEO, told us "For the outdoor advertising companies the flexibility to install their scrollers temporarily and without the need for electricity is an absolutely new and inspiring aspect"
Various sizes are available Michael Schoening pointed out that not only is the more well established 18/1 Bogen size available, but also larger formats, such as a 6 x 3 meter (46-sheet) scroller can be produced.
Presently only single-sided scrollers with an illumination period of up to 8 hours are available however within a few months, the first double-sided scroller will be ready.