Russ Curry, Ministry of New Media
Feedback, this year, from The DailyDOOH Gala Awards – now, amazingly in its fifth year, Ed, would suggest to the organisers and all who attended that it was definitely the most appreciated ever. Two huge LCDs added into the middle of the Banqueting Hall and a brand new sound system pretty much cracked the audio in the notoriously difficult room (to get the sound correct).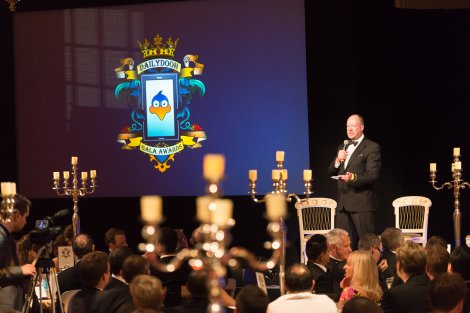 DailyDOOH editor-in-chief Adrian Cotterill opened the Gala Awards with a short keynote – something he has not done since the very first awards back in 2012 but perhaps, judging by the shortness of his speech (he is after all keeping all of the guests from their appetiser) and the good reception it received, it is probably something he should return to give next year. He thanked all attendees, those who had bought tables, and all of the sponsors; Ayuda Media Systems, Barco, NEC Display Solutions, Samsung and Scala. The mention of Scala received a resounding cheer as he reminded the audience that Scala have been kind enough to be the drinks sponsor (in addition to other sponsorships) for the last five years!!
Whilst describing 2016 as tumultuous year, he re-iterated what a good year it has actually been for digital signage and digital out of home and in a final, 'keynote' sort-of-way he extolled the virtues of the Americans in how well they handled industry associations – comparing it to a somewhat lacklustre, if sometime ill-fated attempt(s) in the UK and Europe. He called upon the audience in front of him to better support; Digital Signage Federation Europe (nee OVAB), FEPE and what is left of Outsmart.
The level of the finalists was once again, incredibly high – making the judges' already difficult job that much harder. As always, simply being a finalist was an accolade in itself.
In total we had 14 winners for the usual 10 categories, who all went home with a 'Reggie' as above…
You can see more information on all of the winners here on the official web site.