Adrian J Cotterill, Editor-in-Chief
New start-up, Lightvert Ltd., is aiming to disrupt the Digital Out-of-Home market with a ground-breaking new type of augmented reality solution called ECHO.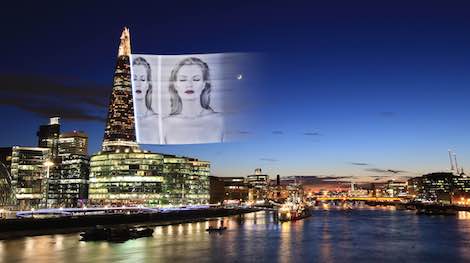 ECHO is a patented technology that is capable of producing huge digital images that appear up to 200m high. The startup's aim is to unlock the vast amounts of lucrative advertising real estate on high-rise buildings and other tall structures.
A narrow strip of reflective material is fixed to the side of the building and a high-speed light scanner projects light off of a reflector and towards the viewer. This creates large-scale images that are 'captured' for a brief moment in the viewer's eye through a 'persistence of vision' effect. The images are fleeting, but striking, prompting viewers to stop, engage with the image and share the experience (images can be captured using a camera or mobile phone)
It has been funded to date by Innovate UK and a small cohort of seed funders, ECHO has completed the proof of concept and is now ready to build a commercial solution. This will be funded through an equity crowdfunding campaign launching February 13, 2017 through Crowdcube, with the aim of ultimately bringing ECHO to market later this year.
ECHO has a global patent pending, and Lightvert believes it will open up exciting new advertising opportunities in outdoor spaces that are currently inaccessible to traditional and digital OOH.
Daniel Siden, CEO of Lightvert Ltd who we met at #ISE2017 last week told us "ECHO provides a new way for brands to rise above the noise of street level advertising and engage with audiences on an unprecedented scale. Using the persistence of vision effect, ECHO hardware has virtually no physical footprint. It introduces new audience behaviour and is a powerful opportunity for advertisers and property owners, which could dramatically change the game in terms of capital costs and planning permissions for premium outdoor media."
Lightvert has received a positive response from several creative agencies and outdoor media specialists. Among the many supporting the ECHO concept is Simon Dicketts, Executive Creative Director of M&C Saatchi who was quoted as saying "This is exciting. Technology that frees up the mind to new creative possibilities has to be a good thing".
You can view the ECHO video on their home page here.